A US Marshal Cop was shot in the head in front of a Circus Circus Casino in Las Vegas. The cop is still alive but in critical condition on life support. Police shot the Latino male suspect several times and he is reportedly dead.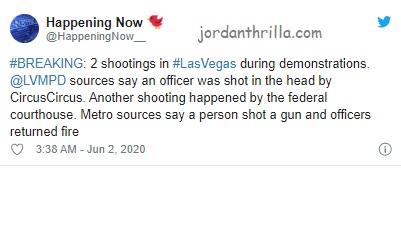 At the same time this was happening there was also another shooting near a Federal courthouse in Las Vegas. In that shooting police allegedly shot dead a rioter wearing protective armor after he opened fire on them.
Things are getting crazy out here, stay safe everyone during the peaceful George Floyd protests.
Author: JordanThrilla