The recent Schiaparelli's Paris Fashion Week Show made waves when a model showed up in the same look as Kylie Jenner. The outfit, a black Bodycon lion head dress, made a huge statement when Kylie was first seen wearing it at the show. However, things took an unexpected turn when model Irina stepped onto the runway with the same look. The fashion world was abuzz with speculation and surprise.
Was Kylie Jenner's Lion Head Dress Outfit Idea Stolen by Model Irina at Schiaparelli's Paris Fashion Week Show?
Kylie Jenner's appearance at the Schiaparelli's Paris Fashion Week Show was highly-anticipated, so seeing the same look on another model really caught people off guard. People quickly began speculating as to why the model had the same look as Kylie, and many took to social media to express their surprise and confusion. Was this a coincidence, mistake, or something they both were aware of before it happened?
The situation quickly began trending as a video surfaced that seemed to show Kylie Jenner 'death stare' model Irina as she walked the runway wearing the same lion head dress. The video gained millions of views in a matter of hours, and people made Zoolander and Spiderman meme jokes to make fun of the situation. The worst part is that many people feel the model wore it better than Kylie, because her taller body frame made it pop more.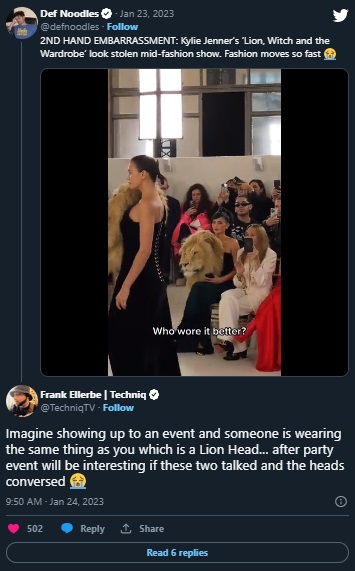 This was definitely a real life Spider-Man meme moment.
Was the Lion Head on Kylie Jenner's Dress Real?
The whole event has been highly controversial, as fashion critics and regular people alike are all debating the situation. Many people criticized both Kylie and Irina for wearing the head of an animal, but apparently that is actually a fake lion head. Also it's possible that Kylie Jenner was just trying to flex by wearing the dress before it hit the runway, so maybe Irina didn't steal the idea, or vice-versa.
Either way one thing is for sure, most fashion shows just seem very weird, the outfits are mostly horrible, and the overall vibe looks extremely boring. Also what's up with the funeral music playing in the background?