In a controversial tweet, a white woman named Dr. Anita B. Etin aka @DrAnitaBEtin recently said that "Obese" is the N word for plus-sized people. This statement has sparked outrage and debate among many people, as the comparison between a medical term for someone who is overweight and a racial slur is highly offensive and wrong. The tweet in question has been widely discussed and criticized on social media, with many people pointing out the serious implications of equating a person's weight to a racial slur.
Social Media Reacts to a White Woman Named Dr. Anita B. Etin Comparing to the Word 'Obese' to the N-Word
People believe her tweet shows a lack of understanding of the history of racism and oppression in the US. People argued that equating a medical term to a racial slur without any consideration of the history of racism and oppression that people of color have faced is wrong and insensitive. Considering that Dr. Anita B. Etin is a white woman it only makes the racial implications of statement that much deeper. Also there's the fact that in many cases people who are obese, are overweight by choice in that they aren't willing to take the steps to lose weight.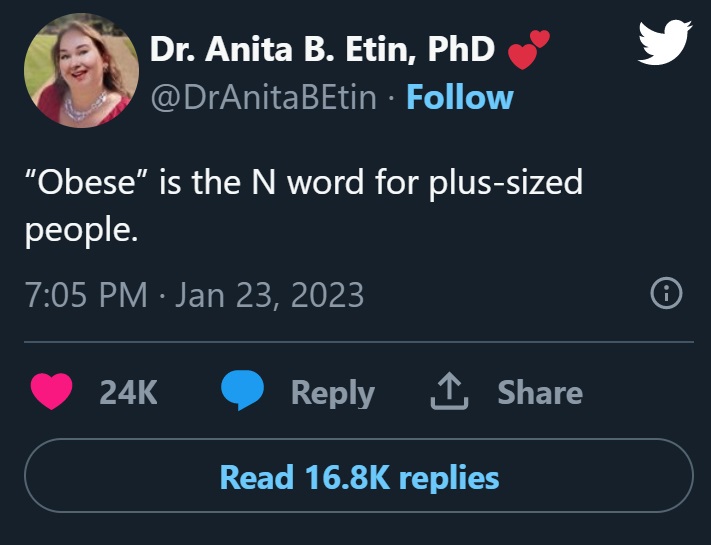 Legendary social justice activist Tariq Nasheed gave Dr. Anita B. Etin the face palm. He didn't even waste any words on her nonsense take.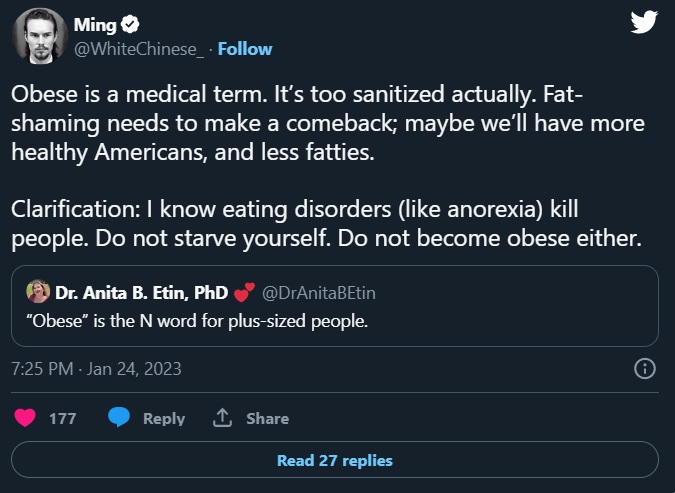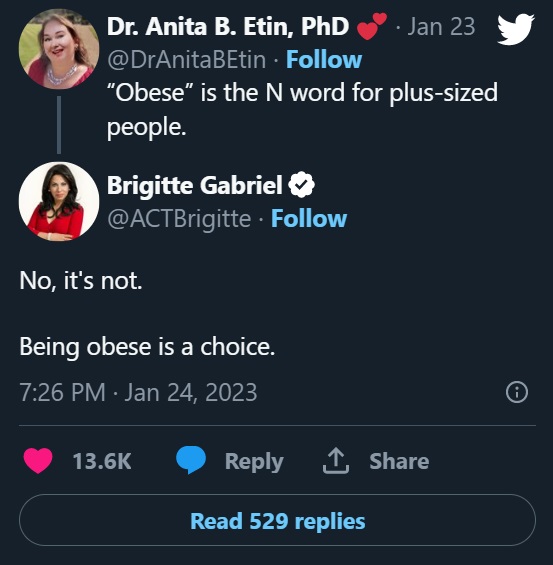 Dr. Anita B. Etin Responds to Backlash of Comparing "Obese" to N-Word Racial Slur
The saddest part about this situation is that despite people explaining how wrong she is for equating a medical term to a racial slur, she doubled down on her statement. In response to the backlash she posted another tweet saying, "The only clowns I see are fatphobes like this who think fatphobic slurs are funny"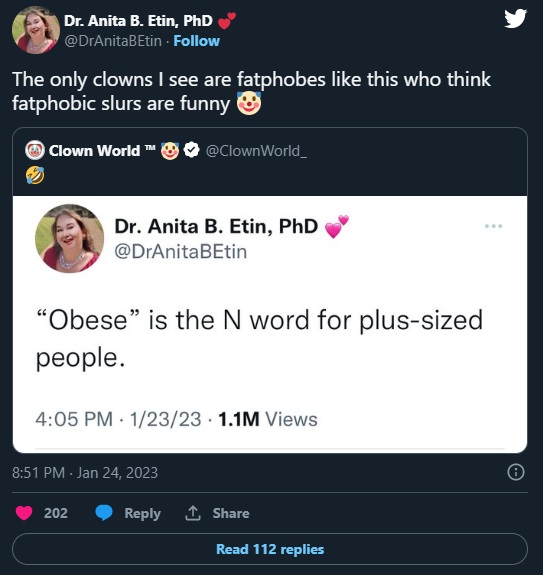 The Dangers of Anita B. Etin Promoting Obesity
Dr. Anita B. Etin spends her time advocating for obesity on social media. She regularly posts messages and photos of herself eating unhealthy meals such as fast food. This can be considered dangerous when you take into account how big of an issue obesity is in America.
According to the Centers for Disease Control and Prevention (CDC), obesity-related conditions such as heart disease, stroke, type 2 diabetes, and certain types of cancer were the cause of approximately 1 in 5 deaths in the United States in 2018. This translates to around 45 million deaths that year that were directly related to obesity.
The CDC also estimates that obesity-related medical costs account for around $149 billion each year in the United States, with $8,559 in healthcare costs per adult with obesity. These figures emphasize the need for the promotion of healthier lifestyles, and diets in order to reduce the number of deaths from obesity-related conditions.
It just doesn't seem right to see a white woman comparing "obese" to the N-word racial slur, but these are strange times we live in.