Kevin Durant is no stranger to controversy. The 12-time All-Star and four-time scoring champion has been criticized for his decisions to join and leave the Golden State Warriors, where he won two championships and two Finals MVP awards. He has also been accused of being too sensitive to online trolls and media pundits who question his legacy and leadership. That sensitivity led to a player who is not even in the NBA catching a stray.
Why Did Kevin Durant Diss Scoot Henderson While Responding to Charles Barkley and Shaq Criticizing Him Joining the Suns?
Durant may have crossed a line when he hit Scoot Henderson with a hilarious jab while taking a shot at Charles Barkley and Shaquille O'Neal, two of his most vocal critics. Barkley and Shaq have repeatedly said that Durant needs to lead a regular basketball team to a championship that is not a super team, implying that his rings with the Warriors are tainted by the presence of other stars like Stephen Curry, Klay Thompson and Draymond Green.
Durant, who joined the Phoenix Suns this season after getting traded from the Brooklyn Nets, responded to their criticism with a strange comment. He said: "At this point, they're saying I need to go play with Scoot Henderson and win a championship and then we'll give you credit. I don't need credit from ya'll".
19-year-old Scoot Henderson was high school phenom who is widely regarded as one of the best prospects in the country. He is expected to be a top pick in the 2023 NBA draft after skipping college and signing with the G-league Ignite.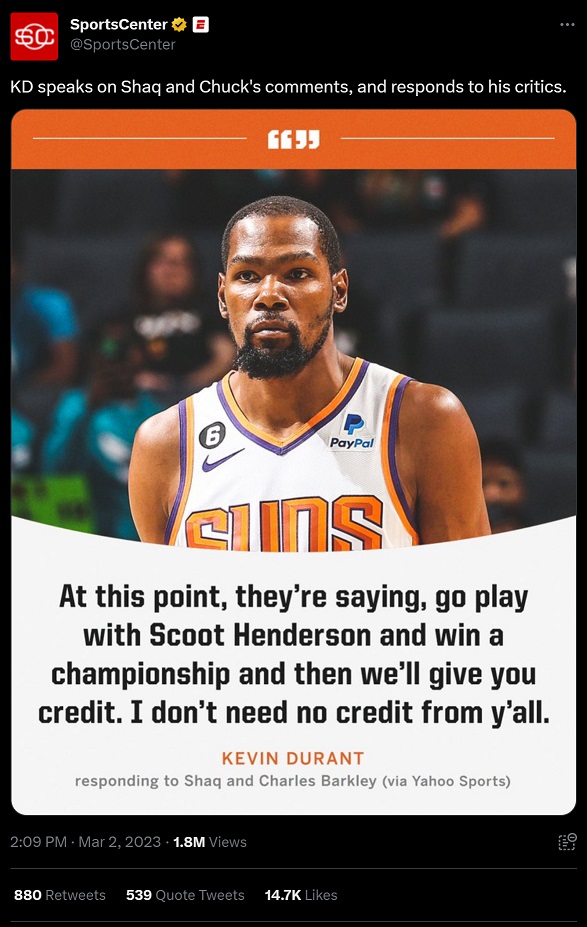 It seemed like Durant's remark was clearly meant as a sarcastic dig at Barkley and Shaq's strict standards for greatness, but it also came across as disrespectful to Scoot Henderson, who had nothing to do with their beef. Many people on social media were shocked that Durant would talk down on Henderson like he's a scrub.
Some fans defended Durant, saying that he was just joking and that Henderson should take it as a compliment that he was mentioned by one of the best players in the world. Others pointed out that Durant himself was once a young star who had to prove himself in the league, and that he should show more respect to the next generation of talent.
Whether Durant meant any harm or not, his comment has certainly added more fuel to his ongoing feud with Barkley and Shaq, as well as generated more attention for Henderson's promising career. It remains to be seen if they will ever cross paths on or off the court.