Zion Williamson's body is breaking down already, and Pelicans fans should be worried. Pelicans announced Zion was battling severe knee pain soreness again, and would miss the rest of the preseason and some of the regular season.
He will undergo a series of tests on his knee so they can confirm exactly what is wrong. This continues a trend for Zion Williamson since high school, where he has been battling knee issues. Many people have noticed Zion Williamson seems to walk like he is in constant pain as well.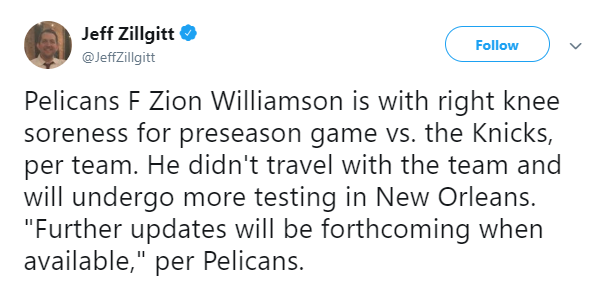 Brief History of Zion's Knee Issues
In 2017, Zion injured his knee in high school. Doctors wouldn't go into detail about the injury, but said it was "minor". However when people saw him return to play after taking time off with still a noticeable limp, it was clear it may have been more than minor.
He then injured his knee again while at Duke, in what doctors called a "Grade 1 MCL Sprain". This was due to his low quality Nike shoe, exploding during a game.
On to the NBA, it has been a disaster for Zion so far. He only played a few minutes in Summer League, then was ruled out because of his knee. Now after only playing light minutes in two preseason games, he is out again with knee issues. This time, Pelicans are saying they need to do further testing on the structures of his knee.
The NBA Season
Many fans have Zion Williamson as a lock for rookie of year. However, many basketball purists have doubts he will win it. He's close to 300 pounds, and moves like he weighs 100 pounds less, and has supreme athleticism. However the chinks in his armor, his raw skills, bad knees, and being injury prone will likely keep him from winning the award. His knees could keep him from having a long NBA career.