50 Cent dissed T.I. on Instagram after he challenged him to a Verzuz. Knowing that 50 cent isn't afraid to speak his mind, you know the antics would ensue when TI added in he didn't care if he brought Eminem and Dr. Dre. 50 Cent said "somebody passed TI the weed they gave smokey in Friday LOL". In other words 50 Cent was saying TI is out his mind for challenging them to a Verzuz Battle.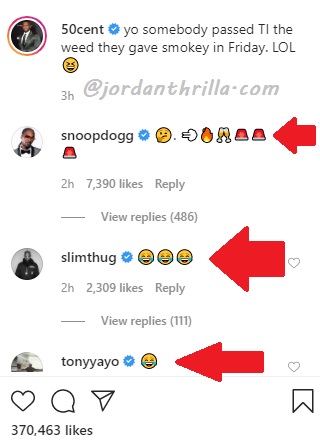 TI has had a legendary rap career with many hits like "U Don't Know Me", but some people would say 50 Cent definitely has a point here. You could argue that 50 Cent's "Many Men" song is greater than anything T.I. ever put out. At the same time 50 Cent has failed at putting out a hit record for like the past 10 years now, largely because he was unable to keep up with drastic changes in hip hop culture. Let's be honest, no one can remember the last time someone said "G G G G G Unit!!!"
Now that 50 Cent has dissed T.I. Verzuz challenge, it only makes it more personal if it actually goes down.
Author: JordanThrilla