Offset, one of the members of the rap trio Migos, has recently expressed his frustration with his label Quality Control Music (QCM) on social media. According to Offset, QCM is interfering with his ability to release new music, and is holding him back from his full potential.
In a series of tweets and Instagram stories, Offset accused QCM of being "shady" and "greedy" and claimed that they are not paying him what he deserves. He also said that he has a lot of unreleased music that he wants to share with his fans, but QCM is not allowing him to do so.
Offset's relationship with QCM has been rocky for a while. In 2018, he and his fellow Migos members Quavo and Takeoff sued their former lawyer Damien Granderson for allegedly taking advantage of them and favoring QCM over their interests. The lawsuit alleged that Granderson helped QCM negotiate an exclusive distribution deal with Capitol Records in 2015 without informing Migos or getting their consent. The deal reportedly gave QCM a larger share of the profits and reduced Migos' royalty rate.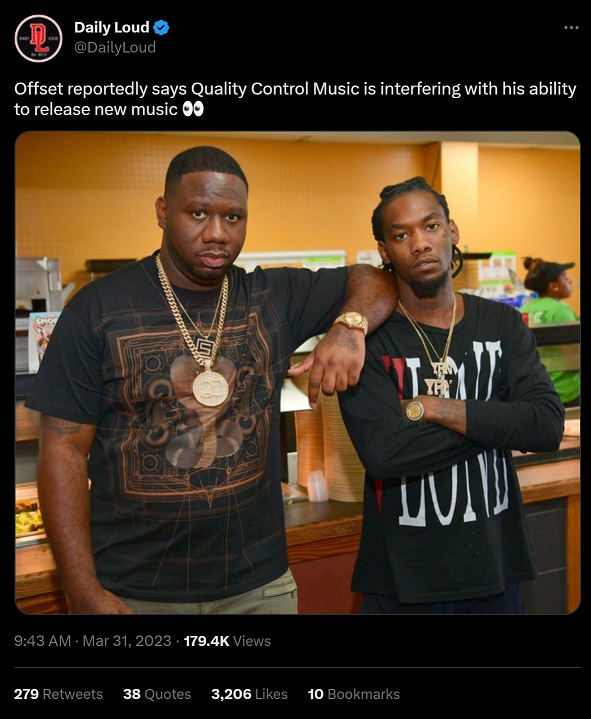 In 2020, Migos filed another lawsuit against QCM and its CEO Pierre "Pee" Thomas for breach of contract, fraud, and unjust enrichment. The lawsuit claimed that QCM failed to account for and pay Migos millions of dollars in royalties and other income. The lawsuit also accused QCM of having a conflict of interest by managing both Migos and their producers, which resulted in Migos paying excessive fees to QCM and its affiliates.
QCM has denied the allegations and countersued Migos for defamation and breach of contract. Thomas has also defended his label and said that he has always supported Migos and their careers. He said that he has invested millions of dollars in Migos and helped them become one of the most successful rap groups in history. He also said that he has no control over when Migos release their music, and that they have full creative freedom.
It is unclear how Offset's public feud with QCM will affect his future music releases and his relationship with his label mates. Some fans have speculated that Offset might be planning to leave QCM and start his own label or sign with another one. Others have urged Offset and QCM to resolve their issues amicably and focus on the music.
What do you think of Offset's claims against QCM? Do you think he is being treated unfairly by his label? Do you think he should stay with QCM or leave?