50 Cent joked about George Floyd's death with a disrespectful Floyd Mayweather diss on social media. In the post 50 cent jokes about George Floyd saying "I can't breathe" by showing Floyd Mayweather wearing a t shirt that says "I cnta' breathe", purposely misspelled.
50 Cent added the caption "who did this s***, lol" with a laughing emoji.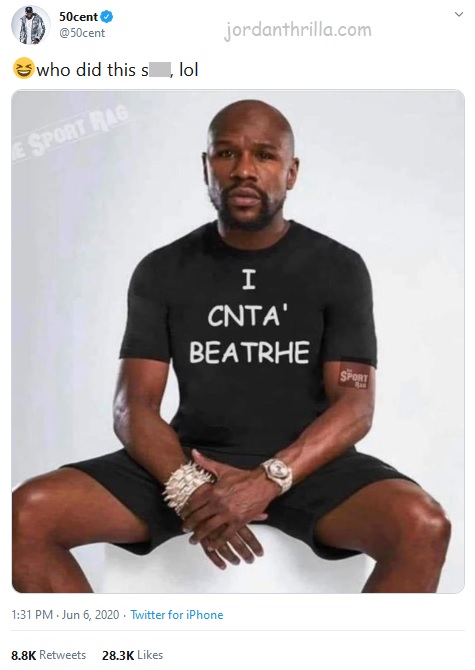 The post is another part of the long going feud between the two stars. 50 Cent is using something related to George Floyd's death to clown Floyd Mayweather's speech and reading issues.
When audio leaked of Floyd Mayweather struggling to read a drop on Breakfast Club, 50 cent never let up on the jokes. Years later 50 Cent is joking about George Floyd's death to get more clowning in. This could end up being a PR disaster in the making for 50 cent.
Lets just hope no one starts to mass produce George Floyd "I cnta' breathe" t shirts because of this 50 Cent joke.
Author: JordanThrilla