This NBA offseason has been full of surprises, and the gift just continues to keep giving. Whether it's players demanding trades, coaches getting suspended, top draft picks getting injured during pro-am games, or players undergoing unexpected surgeries the news surrounding the NBA has been drama filled. Now the Phoenix Suns are the latest to enter the chat.
Did Jae Crowder Demand a Trade from Suns? Jae Crowder Deleted Tweet Shocks Social Media
Jae Crowder has been one of the main cogs that kept the Suns' machine running smoothly. Whether it was his great defense, three point shooting, playing the bully role, or just being an emotional leader on the floor, he did everything for the Suns. We all remember how he salsa danced on Lebron after they eliminated the Lakers in the first round the season before last. Most people thought it was a given he would return to the team, but now that isn't so certain.
Recently Jae Crowder replied to a post about Phoenix Suns training camp, and he left a lot people sweating bullets. In the tweet he wrote "99 won't be there", which could mean Jae Crowder isn't coming to Phoenix Suns training camp. Shortly after posting that message Jae Crowder deleted the tweet, which led to even more speculation about what he meant. There's a lot going in Phoenix right now due to the Robert Sarver situation, which makes people certain that Jae Crowder demanded a trade, or he knows that Suns are getting ready to trade him.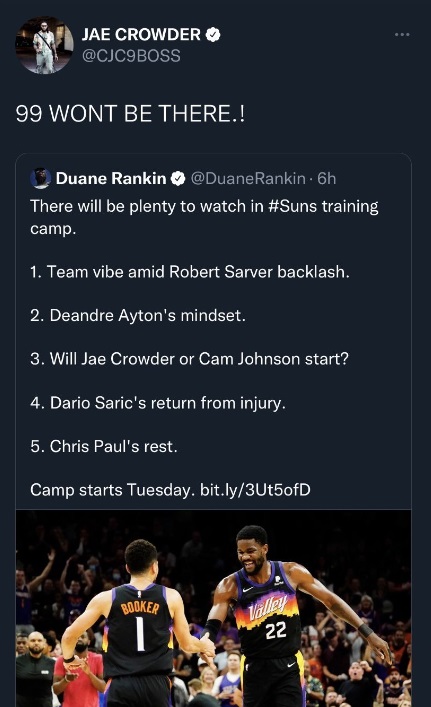 Losing Jae Crowder would be a huge blow for the Suns, but it would also mean they are getting a nice package in return. He may not be a superstar player, but he definitely would have value on the trade market. He's exactly the type of 3 and D player NBA executives love in this era.
The big mystery here is does Jae Crowder's deleted tweet mean he wants to be traded, or that Suns want to trade him? If he wants to be traded could it be related to him finding out Robert Sarver's racist actions?