Prison inmate Jamel Floyd was peppered sprayed to death at a Brooklyn detention center, allegedly. According to a report released by the US Department of Justice, James Floyd barricaded himself inside his prison cell after breaking his door with a metal object. Correction officers then used pepper spray on Jamel Floyd until he died and was removed from his cell.

Reports say he was rushed to the hospital before being pronounced dead.
If you're wondering, yes it is a coincidence that the inmate shares the same last name as George Floyd and it's very spooky.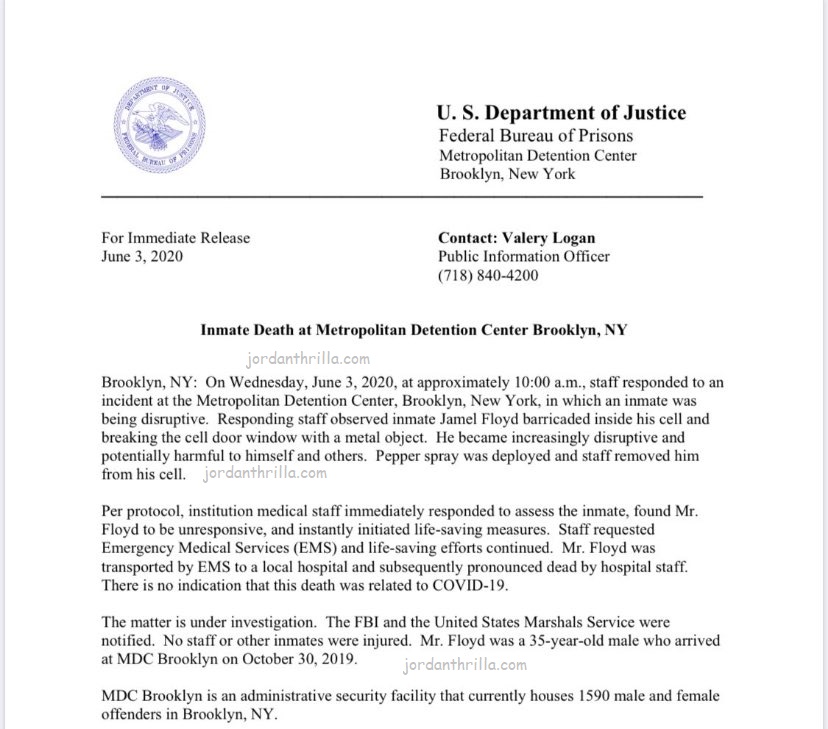 The FBI and US Marshals service have been notified of the Jamel Floyd pepper spray incident, and currently investigating.
Jamel Floyd was 35 years old, and first became an inmate at Brooklyn Metropolitan Detention Center in October of 2019. With the current climate of things because of the George Floyd tragedy this could cause major problems with people already emotional hurt.
Jamel Floyd dying after being pepper sprayed by Police officers is not a good look for the Brooklyn detention center where he was housed. It's not clear if this is connected to the alleged shooting of two NYPD Cops in Brooklyn.
Author: JordanThrilla