The Covid vaccine was released to the public for first time in 2020. This was a major milestone in the history of vaccines, as it marked the first time a fully synthetic vaccine had been released to the public. The Covid vaccine was developed using cutting-edge mRNA technology, which left many people worried about the potential health issues it could cause.
In hindsight most people can admit now that many politicians and government officials lied about the vaccine being completely safe. Many people believe the amount of deaths and serious side effects it has caused people are being underscored, and a recent development in the Biden Administrations spending bill is fueling those conspiracy theories once again.
Did Joe Biden Administration Increase Spending on COVID Vaccine Injury Claims in $1.7 Trillion Omnibus Spending Bill? Conspiracy Theory Trends
According to reports the US Senate may be on verge of passing a $1.7 trillion omnibus spending bill with bipartisan backing. What stands out most to many about this spending bill is a portion that targets people who have had injuries from vaccines. Based on documents regarding the bill Joe Biden is allotting over $15 million towards administrative expenses for the Vaccine Injury Compensation Trust Fund. This would provide more money for the National Vaccine Injury Compensation program.
What strange about that is that is according to Republican representative Dan Bishop, that is a $2 million increase from the previous $13.2 million amount, which equals a 15% increase. Naturally conspiracy theorists believe this could be a sign that the Joe Biden administration is publicly acknowledging that the COVID vaccine is not 100% safe for the first time. However, there is fine print in the omnibus spending bill that may show people are misconstruing things.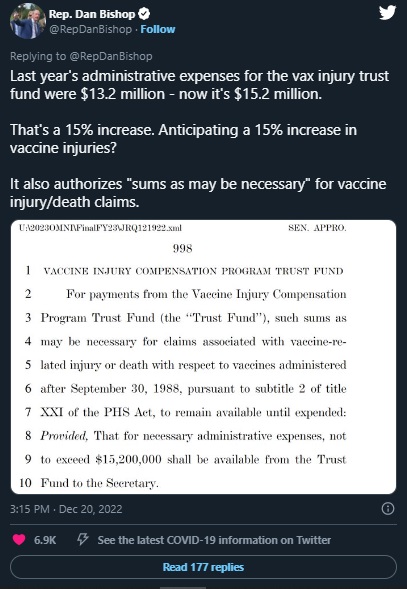 COVID vaccines are actually not covered by the National Vaccine Injury Compensation program, which was started in 1988. Rather, COVID-19 vaccines are cover under the Countermeasures Injury Compensation Program (CICP), which is a government-run program that provides financial assistance to individuals who have experienced injuries as a result of countermeasures taken in the course of their work.
The program is designed to help injured workers receive the compensation they need to cope with their injuries, and recover from the damage they've sustained. The CICP is open to both employees, and self-employed individuals who have been injured as a result of their work. Eligible individuals can receive financial assistance in the form of lump sum payments, or monthly benefits.
COVID vaccines are definitely not 100% safe, but it doesn't seem like the fine print of Biden administration's $1.7 trillion omnibus spending bill has anything to do with issues related to that. Who knows though maybe it was designed to appear that way to the public so they can't be criticized.