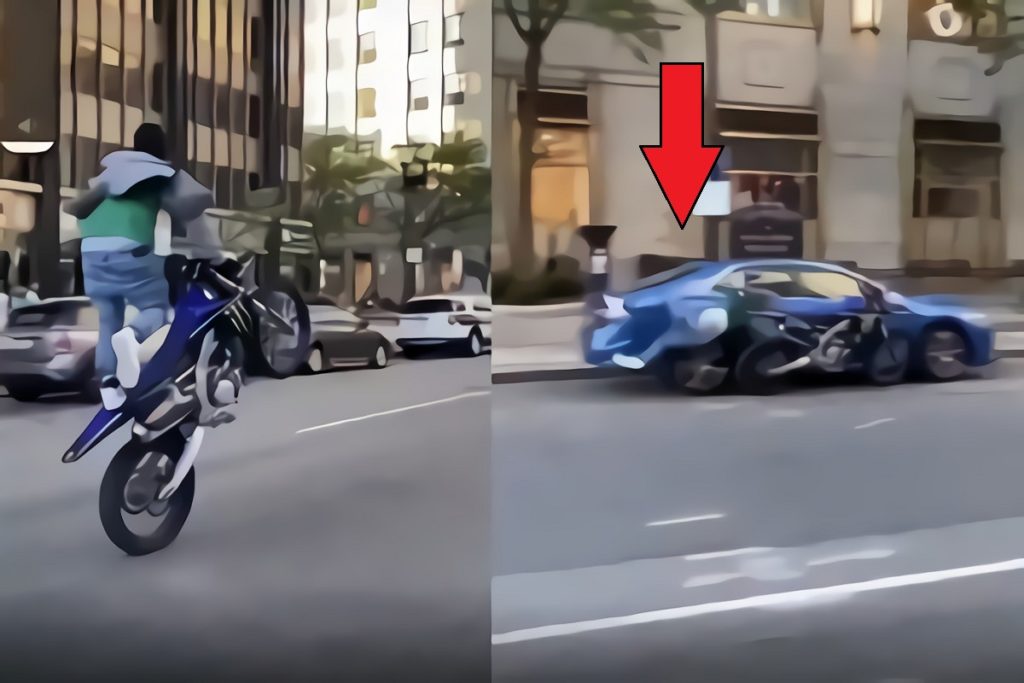 It's well known that Meek Mill has a love for dirt bikes and motorcycles. In the past we have seen videos of him joy riding around streets of different cities. Recently a video of a nasty dirt bike crash went viral, and people around social media were saying it was Meek Mill, but was it really him?
Video: Did Meek Mill Crash his Motorcycle into a Toyota Camry in Philadelphia?
A trending video shows the moment a man crashed his dirt bike into a blue Toyota Camry while attempting a dangerous trick in the busy streets of Philadelphia. The accident happened after the man lost his balance, but was hanging onto the bike trying to keep it from veering off the road. His efforts failed as his legs hit the Camry and he flew off the bike. The loud thud of his bones crunching against the metal of the car sounded painful.
Amazingly the main was seemingly unaffected by the horrific accident, and got right back on his dirt bike and continued riding like nothing happened. It's safe to say his adrenaline must have been running high in the moment. He'll likely feel some severe pain later in the day.
On social media multiple viral tweets claimed it was Meek Mill crashing his dirt bike into the Toyota Camry. Take a look at the video and some tweets.
It's tough to believe Meek Mill would do something so stupid, but anything is possible. However, there's more people saying it wasn't Meek Mill crashing his motorcycle in the video, than people saying it is.
Whoever that was hopefully they make a full recovery from the possible injuries they sustained. Also let's hope the owner of that Toyota Camry has good insurance, because there is likely a huge dent in their bumper.