The Drake vs Mavado beef is heating up. Drake responded to Mavado saying he will never be Yaadman with a disrespectful threat on Instagram Live. Basically, Drake told Mavado to shut his mouth or things were going to "unruly".
Before taking a look at Drake's comment you need to know the back history of this beef. Drake released the "Only You Freestyle" awhile back that talked about the Gaza Gully Beef. On the track Drake shouted out Popcaan and dissed "Casava Piece", which is Mavado's hood. Naturally Mavado was offended by Drake's comments, and the beef was born.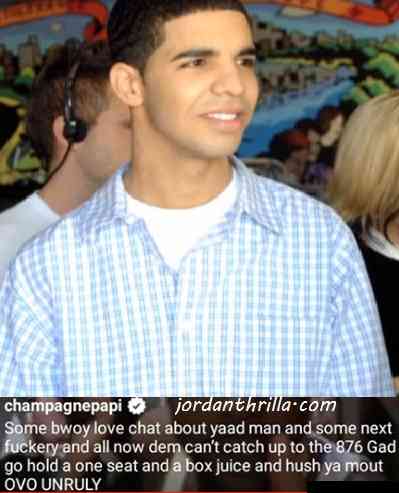 As you can see Drake is still pretending to talk like a Yaadman, which adds to disrespect of his response to Mavado. The last line "hush ya mouth OVO unruly", seems like a threat to Movado not to mention Drake's name again.
All in all, it's still hilarious seeing Drake pretend to talk like someone from Jamaica, after pretending to be from the UK before that. Drake's response to Movado telling him he will never be yaadman must of really hit him where it hurts mentally. At this point Drake should be used to people calling him a fraud though.
Author: JordanThrilla