Giannis Antetokoumpo Zidane headbutted Moritz Wagner and lost $315K for the incident. For seemingly no reason during Bucks win vs Wizards, Giannis headbutted Moritz Wagner in a fit of rage after physical play under the basket. It was announced today that Giannis will be suspended without pay.
Since he makes $25.8 Million this season, Giannis is losing around $315,000 for the headbutt on Moritz Wagner.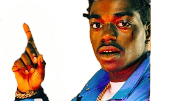 This incident was dangerous and uncalled for. It left everybody in shock including the Bucks coaching staff and players. You could see everyone was concerned for Moritz Wagner after he took that brutal headbutt right to ear area. If you're a boxing fan, you know the ear area is the most dangerous place to get hit besides the back of your head.
Hopefully, Giannis doesn't lose his cool during the playoffs when Celtics or Raptors are shutting him down. Bucks fans would hate to see Giannis Zidane headbutting a player during series and getting suspended again. This incident shows why Giannis still isn't a true leader yet.
Author: JordanThrilla