Free agent center Dwight Howard, who recently worked out for the Golden State Warriors, posted a cryptic tweet one day after a viral rumor stated the team will not offer him a contract. What was written in his message leaves a vague cloud over whether it mas meant to be a slight, or just words of motivation for himself and others.
Did Dwight Howard Diss the Warriors with His Cryptic Tweet?
The tweet, which quoted the author Carlos Castaneda, read: "Only as a WARRIOR can one withstand the path of knowledge. A WARRIOR cannot complain or regret anything. His life is an endless challenge, and challenges cannot possibly be good or bad. Challenges are simply challenges. Go be great".
The tweet sparked a debate among fans and analysts over whether Howard was dissing the Warriors franchise, or expressing his resilience and determination in the face of rejection. If you notice he put the word, "Warriors" in all caps.
Some interpreted the tweet as Howard saying he will always be a warrior in life, even if he doesn't get signed to play for a team called the Warriors. They praised Howard for his positive attitude and his willingness to overcome obstacles in his career.
Others, however, saw the tweet as a subtle jab at the Warriors, implying that they lack the qualities of a true warrior, such as courage, wisdom, and honor. They speculated that Howard was bitter about being snubbed by the team, especially after he had a successful workout with them. They also pointed out that Howard has a history of feuding with some of the Warriors players, such as Draymond Green and Stephen Curry.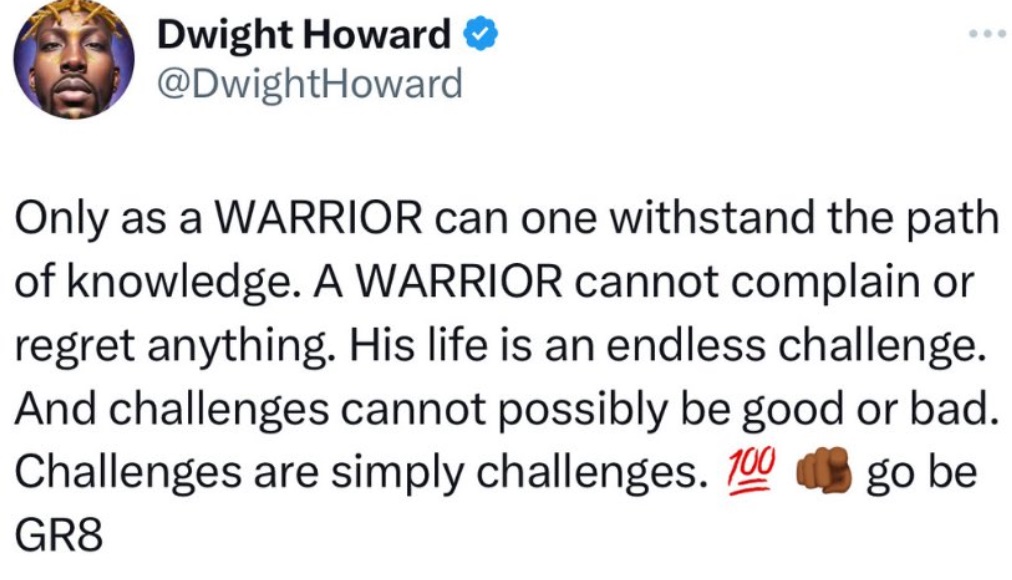 Howard, 37, is an eight-time NBA All-Star and 2020 NBA champion with the Los Angeles Lakers. He was the No. 1 overall pick in the 2004 NBA Draft out of Southwest Atlanta Christian Academy. He is currently looking for a new team after playing in Taiwan over the past year.