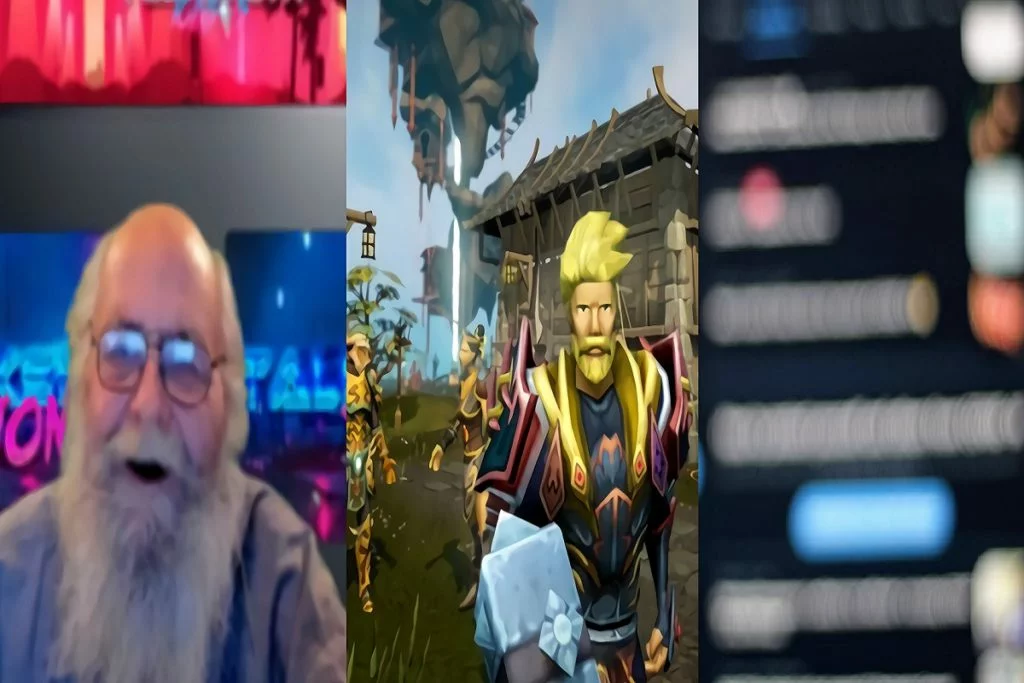 When most people think of Twitch streamers they picture people who are young or at most in their 30s. However, the world of game streaming is ageless, and a perfect example was the well known Twitch superstar Tony Winchester aka RSGLORYANDGOLD who was in his late 60s still making gaming videos that everyone loved. Sadly he recently passed away, and his death as left the gaming community very distraught.
What was Twitch Streamer Tony Winchester aka RSGLORYANDGOLD's Cause of Death?
Tony Winchester was a very nice person who always seemed to be in a good mood during his streams. However, he was battling a deadly form of cancer for a long time, and unfortunately it was battle he couldn't win. Back on October 12, RSGLORYANDGOLD aka Tony died from cancer with his family reportedly by his side. Although his gaming content was diverse he was known most for his legendary Runescape videos.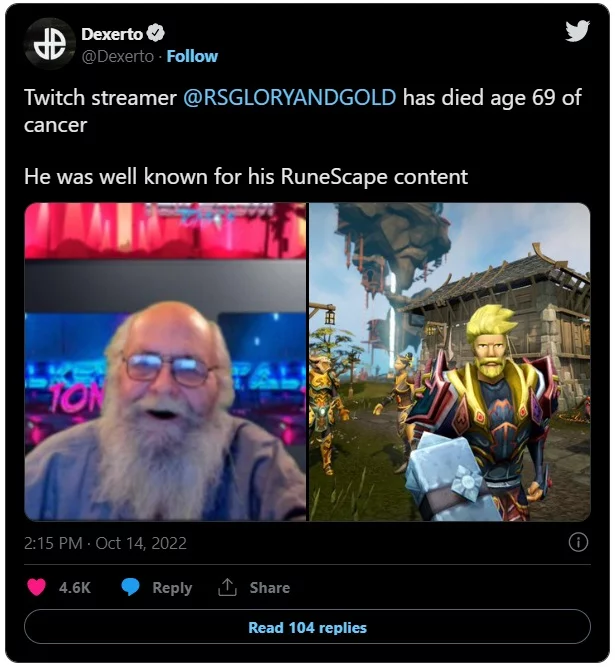 Random People and Celebrities React to Tony Winchester aka RSGLORYANDGOLD Dead at Age 69 from Cancer
As aforementioned Tony Winchester was a very liked person, so his death has had a profound effect on the gaming community. One story someone revealed that conveyed how humble he was detailed how he took time out his day to help a random person who had their twitch account hacked. Take a look at how random people and celebrities reacted to Tony Winchester aka RSGLORYANDGOLD's death from cancer.
Jake Lucky's reaction to Tony Winchester dead was one of the first tweets that made the situation go viral.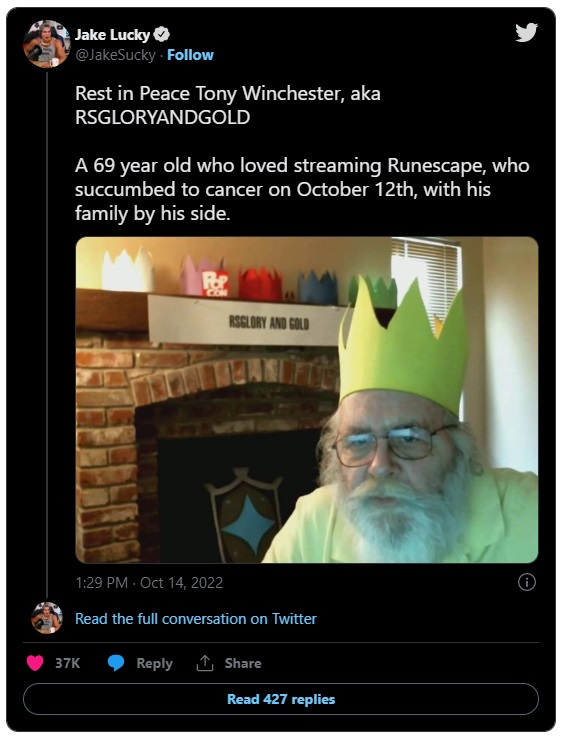 Daniel Keem aka Keemstar reacted to Tony's death by posting a simple 'RIP RSGLORYANDGOLD' message.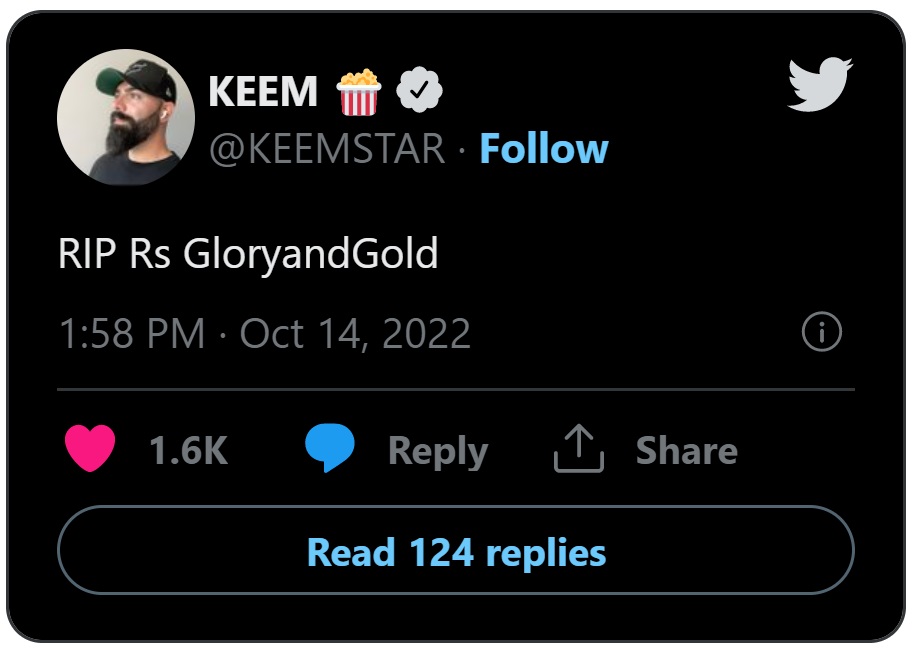 Emily Saxton reacted Tony Winchester's death by talking about the times she used to watch his videos.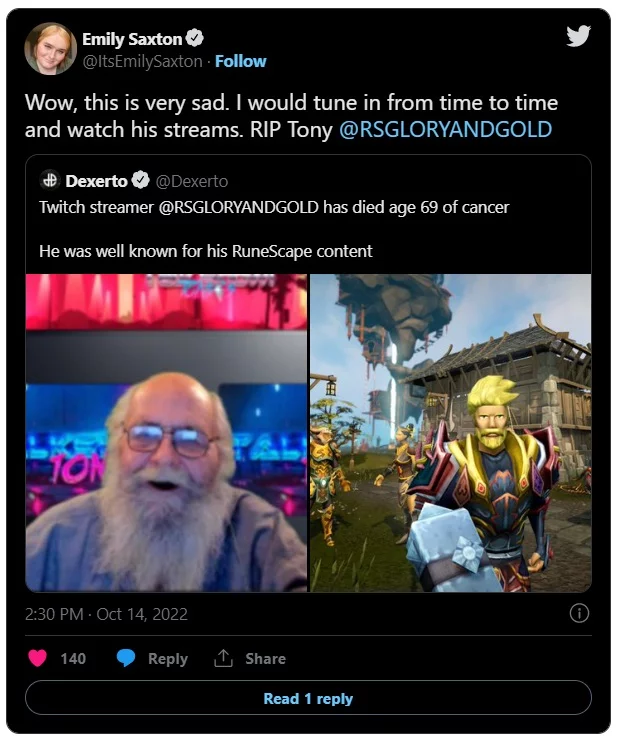 Ice Poseidon reacted to Tony's death by talking about how much he inspired and looked out for her. In her message she wrote, "RIP Tony, you will be missed. A great inspiration and always had my back. Kind in person to everyone as well. May the 'yahoooo' legacy live on".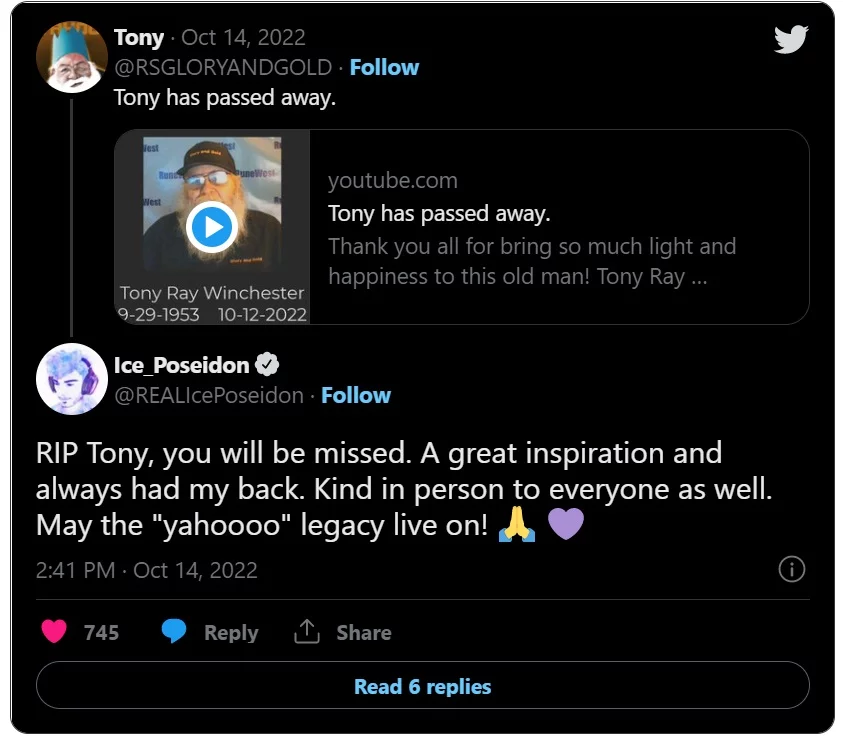 Twitter user Dr. Gore aka Doc_Gore was the person who revealed how Tony helped him when his Twitch account got hacked.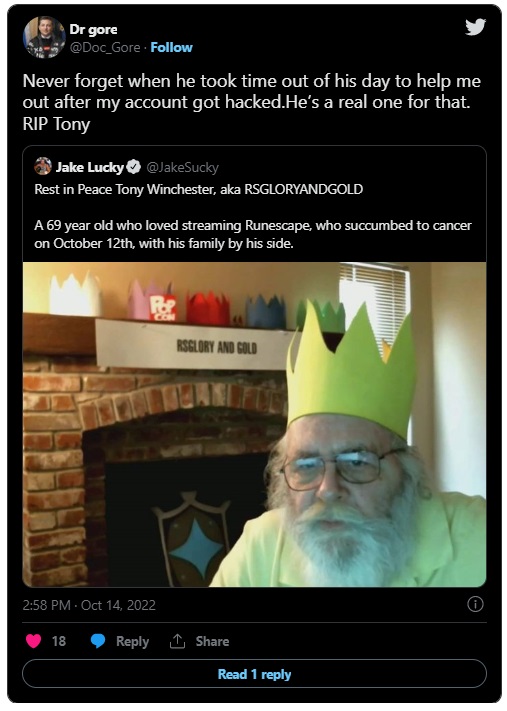 Each year in the United States around 700,000 people die from cancer. That amounts to about 1,670 deaths each day according to cancer.org. Sadly Tony is now part of that statistic. Prayers up for his family, and may he rest in peace.