Did T-Pain get scammed by his accountant? This is the question people are asking after viral video showed T-Pain's Rolls-Royce car getting repoed in the middle of the night. The Grammy Award winning superstar is said to be worth $10 Million in 2021, which is only a fraction of the earnings he made throughout his illustrious career.
Why Was T-Pain's Car Repossessed?
In the footage a repo man from JP Logistics is seen telling a distraught T-Pain that they have to repossess T-Pain's his car. After he signs something on tablet the repo man loads T-Pain's Rolls-Royce convertible onto a truck.
While it seems like T-Pain is broke, it might not be by his own doing as you will see below.
T-Pain Reacts to To His Car Getting Repossessed by Blaming his Accountant or Financial Advisor
T-Pain car's getting repoed isn't stopping him from trying to stay positive about his life. He also used to the opportunity to give some advice to his fans.
T-Pain reacted to his Rolls Royce getting repossessed with a statement saying,
"If you have somebody watching your money, make sure you have someone watching them too. The good news is I've been here before, and I know how to bounce back. Ya'll be careful out here man, and watch your business like you watch your b*****."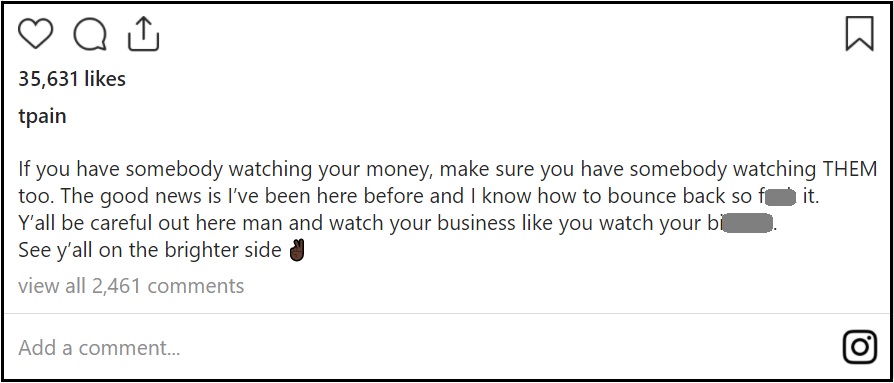 Based on his statement it seems T-Pain got scammed out his money by his accountant or financial advisor. It appears he put too much trust in someone he trusted with his finances.
Hopefully T-Pain recovers from this sad moment.
Author: JordanThrilla Staff