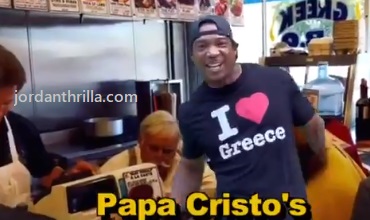 Ja Rule's Papa Cristo's Greek Deli commercial is going viral. Way back in the day when Ja Rule was in his prime, he was a walking endorsement. Papa Cristo's restaurant took advantage of Ja Rule's ability to captivate audiences, and made one of the most legendary commercials ever. Take a look.

It's amazing right? Only Ja Rule could make a low budget commercial with terrible green screen effects look like the most expensive commercial ever. The "I love Greece" t shirt he wore made it even more original. When Ja Rule had trouble pronouncing the names of the food, it made you want to try the dishes even more.
It's clear Papa Cristo's made a great investment when they got Ja Rule to do a commercial for them. Let's just hope 50 Cent doesn't get his hands on this.
Author: JordanThrilla