Lamar Jackson and Samuel L Jackson's identical photo is sparking Illuminati conspiracy theories across the sports world. A new photo has surfaced of a young Samuel L Jackson where he literally looks identical to Lamar Jackson. Most people thought that it was just coincidence they shared the same last name, but it appears there could be more to it than meets the eye. This has given birth to Illuminati conspiracies theories that Samuel L Jackson could possibly be Lamar Jackson's real father, or a close relative.
The Illuminati Lamar Jackson and Samuel L Jackson theory is that they made sure they didn't know they were relatives for unknown reasons.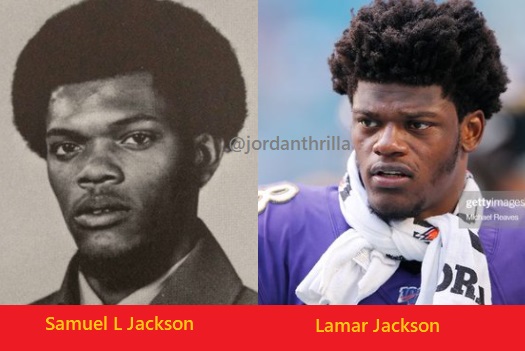 Conspiracy theorists believe the striking resemblance between them is undeniable. Young Samuel L Jackson and Lamar Jackson look like twins side by side. There is some similarities in their careers as well. One made kids dreams come true in real life as you can see in the video above, and the other made kids dreams come true on the movie screen.
Is Lamar Jackson related Samuel L Jackson? Did the Illuminati clone him? The world may never know the true answer to this question, but conspiracy theorist believe there could be a connection.
Author: JordanThrilla