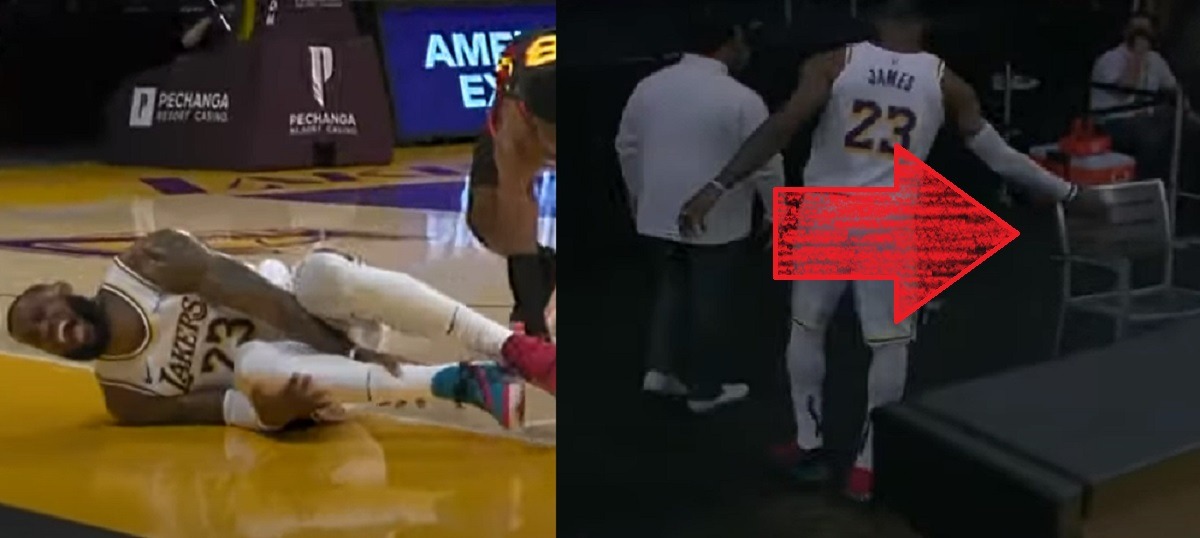 Lebron James streak of durability came to an end in the most horrifying way, but his superhuman body allowed him to escape without an extremely serious injury. However, he is still out indefinitely with an expected lengthy healing time. The frustration from the ramifications of his injury led to Lebron James hitting a chair as he left the arena. Lebron James threw the chair right before the Camera saw him starting to limp noticeably in the corridors.
How did Number 18 Solomon Hill Injure Lebron James? What Unwritten Rule Did Solomon Hill Break?
Solomon Hill injured Lebron James in a way that is unofficially outlawed in basketball. While going for a lose ball Solomon Hill dived into LeBron James leg. The most indestructible player in the league went down in a heap immediately, while slapping the court the floor. Everyone in the basketball world knows you never dive through or at an opponents legs when you can clearly see they're in the way of the ball. Too many careers have been ended that way at all levels.
At first it looked liked Lebron James broke his leg or ankle. However, the official diagnosis is that Lebron James has a high ankle sprain.
The Moment Lebron James hit Chair Before Throwing It
It's not often you see Lebron James express his frustration in a physical manner. This moment was different due to how scary the injury was. When Lebron James knocked over the Gatorade stand it was clear that a rage unlike any other he ever felt was boiling up inside him. Not only because of the injury, but also Solomon Hill breaking the cardinal rule of never diving for the ball when someone legs are in its path.
How Long Will Lebron James be Out with his High Ankle Sprain Injury?
Lebron James could be as much as two months with a high ankle sprain depending on how severe it is. Normal recovery time is 6 to 8 weeks, so even on the low end that's around 1 month and half. That means Lebron James could miss 21 games or more. Luckily there are 31 games left in the season so all things still point to him being ready to start the playoffs worst case scenario.
It's Kyle Kuzma's time to show the world what he's really made of on offense. Talen Horton-Tucker is going to be able to showcase himself more too. These two guys could actually be the 1 and 2 options for the Lakers for the next month, how random is that?
Let's all hope Lebron James has a speedy recovery.
Author: JordanThrilla Staff