Lil Boosie refused to speak about Tory Lanez allegedly shooting Megan Thee Stallion's foot during an Interview on Instagram Live. During an interview the interviewee asked Lil Boosie to give his thoughts about the Megan and Tory situation. Lil Boosie says he won't speak about Megan Thee Stallion getting shot, because he doesn't want to "say the wrong thing".
This left many people confused, because Lil Boosie was never afraid of saying the wrong thing before. It only fuels the theory some people have the prominent male hip hop figures are refusing to defend Megan Thee Stallion, and call out Tory Lanez.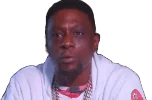 The real question here, is what was Lil Boosie going to say about the Megan Thee Stallion situation that he considered the "wrong thing". Was Lil Boosie was going to speak out in support of Tory Lanez? Or was Lil Boosie going to blame Megan Thee Stallion for getting shot?
Since Lil Boosie who is the hip hop king of saying the wrong things decided to stay silent about the Megan and Tory Lanez situation, it's probably safe to say it was going to anger a lot of people.
Lil Boosie most likely made the smart decision, because the backlash from staying silent would be less than backlash from saying the wrong thing.
Author: JordanThrilla