A debut MMA win for a man with no legs is being tainted with suspicions of fixing the fight after the fact. Zion Clark has entered the Guinness Book of World Records as the world's fastest man to walk on hands, as well as the greatest number of diamond pushups in three minutes. There is no doubt that his achievements inspire the entire world. From the tattoo on his back that reads 'NO EXCUSES', to his inspiring speeches and superior performances, Clark has enthralled his followers. On December 17 2022, he won his debut MMA fight, which stunned the world, but also raised some questions in the minds of his fans.
People Believe Zion Clark Cheated, Because the Fight was Fixed For Him to Win His Debut MMA Match
Eugene Murray met the former wrestler in the Octagon at Gladiator Challenge: Seasons Beatings, but it seems as if the rookie performed better than his adversary and won by unanimous decision from the judges. Clark appeared to have difficulties in beginning the fight, but he fought to win. Murray initially kept a distance. However, as the distance decreased between the two, Zion Clark grabbed Murray's legs and forced him down. With relative ease, the 25-year-old inspiration Clark displayed his strength and superior wrestling skills. The judges unanimously decided in favor of Clark with 30-27 scorecards indicating a dominating win.
Clark shut down every voice that arose against him with his performance in the cage, he made sure his disability wouldn't get in the way of his success. He has always been able to amaze the world with the goals he has. Some people have compared Zion Clark to Geodude Pokémon character. Despite the fact that many of his fans praised and congratulated him for the win, some believed that the fight was fixed. It's not really clear why people think Zion Clark cheated, and the fight was rigged, but it seems people are grossly underestimated his ability in the ring. Take a look at some reactions on social media.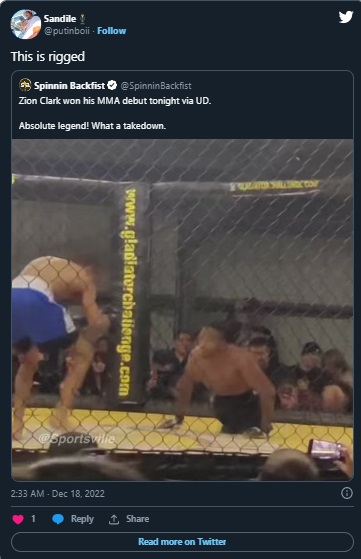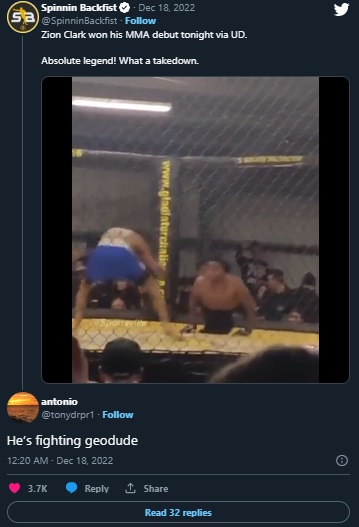 Why Does Zion Clark Have No Legs?
Zion Clark was born with a rare condition called "caudal regression syndrome". According to science Caudal syndrome is a disorder that affects the spinal cord and the lower extremities. It can cause paralysis, difficulty walking, and problems with balance and mobility. Fortunately, there is treatment available in some cases, and some people who receive it regain some degree of mobility and independence. Caudal syndrome is caused by a number of factors, including birth defects, spinal cord injuries, and cancer.
People should stop accusing Zion Clark of cheating by winning a fixed fight, and just celebrate how amazing his victory is.