NBA 2k21 Clippers Conspiracy Theories are amidst after people heard commentary on the game. NBA 2K21 says Clippers aren't winning the championship this year during prerecorded commentary that describes how this current season ended. As you may or may not know, 2K pre records the commentary based on Insider information of what may happen in the current and upcoming season.
This gives birth the NBA 2k21 Conspiracy Theory that NBA has rigged it so Clippers don't win a championship. Take a listen to the evidence.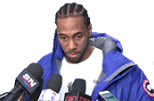 As you can hear the NBA 2K21 prerecorded commentary from David Aldridge says "Clippers were picked by many to win the championship this year, but they didn't get it done. Kawhi Leonard said he isn't concerned. He said they just have to keep getting better".
This is where the NBA 2K21 conspiracy theory about Clippers gets interesting. Why would 2K already have it prerecorded into their final product that Clippers aren't winning the champion this year? How would they know the outcome of the season before the season ended?
The only answer to this NBA 2K21 Clippers conspiracy theory is very simple. Most people think it means the NBA is rigged for Clippers to lose this year.
Keep a close eye on how Clippers playoffs run turns out.
Author: JordanThrilla