Kadia Iman is a digital creator, music artist and DJ who graduated from LaGuardia Community College in Long Island City, New York. She also has an OnlyFans account, and more than 45,000 followers on TikTok. She became a viral sensation after she snatched a microphone from a white educator during her graduation ceremony and delivered a powerful message to the crowd.
Why Did Kadia Iman Snatch Fight the White Teacher For the Microphone?
According to Iman, she and other black students were not allowed to say their full names and majors before getting on the stage, while other students were given more time and freedom to introduce themselves. She claimed that the white woman holding the microphone was pulling it down super fast for some black students, which she felt was unfair and racist.
Iman decided to reclaim her moment by grabbing the microphone from the woman's hand and saying: "I want the mic! Let go! You didn't let me get my moment. And I'm graduating today. I don't like how you snatched the mic out of my hand, so today is going to be all about me!" She then dropped the mic and walked off, leaving the audience stunned and cheering.
How did people react to her video?
Iman's video received millions of views and thousands of comments on TikTok, Instagram and other social media platforms. Many people praised her for her courage, confidence and charisma. They also congratulated her on her graduation and expressed their admiration for her.
Some people, however, criticized her claiming she was being rude, disrespectful and unprofessional. They also questioned her motives and accused her of seeking attention and fame. They also warned her that her actions could have negative consequences for her future career.
How is Kadia Iman Reacting to the Backlash?
Iman posted a video of her mic drop on her Instagram account, where she has over 11,000 followers. She also wrote a caption on her Instagram stories defending her actions and explaining that she did it for black women across America. She wrote: "To everyone saying I should be embarrassed or I'll never get a job… I'm a black woman in America. I am always in the right… You will not gaslight me into thinking I'm the bad guy. I did it for girls that look like me. Love U".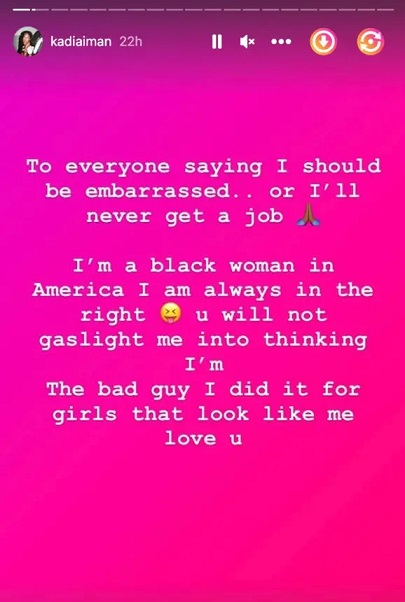 On the surface it seems Iman only wants to inspire other black women to speak their truth and demand respect. She had to reclaim her moment, because she worked so hard to graduate and went through so much to achieve her goals. It seems she wanted to show other black women that they deserve to be heard and celebrated. The people who think this will impact her future negatively are probably wrong, this will actually open doors for new job opportunities.