Skip Bayless is public enemy number one on social media after an ill timed tweet sent the NFL world into a frenzy. As the situation involving Damar Hamlin's cardiac arrest was unfolding, Bayless tweeted then deleted a message saying "No doubt the NFL is considering postponing the rest of this game, but how? This late in the season, a game of this magnitude is crucial to the regular-season outcome, which suddenly seems so irrelevant".
Was Skip Bayless Faking Sniffling Crying on Undisputed while Apologizing about Damar Hamlin Tweet?
He later would claim that people took his tweet out of context, and claimed he was only saying that Hamlin's health was more important than the game. However, it was too late as the cancel Skip Bayless movement has already began. There was no doubt that the next episode of Undisputed would be awkward, and indeed it was. Not only did Shannon Sharpe not show up, but people accused Skip Bayless of fake sniffling crying as a way to negate the energy that was being brought towards him by the fans angry about his deleted tweet. He claimed he wanted to cancel the show today, but decided to still have it aired.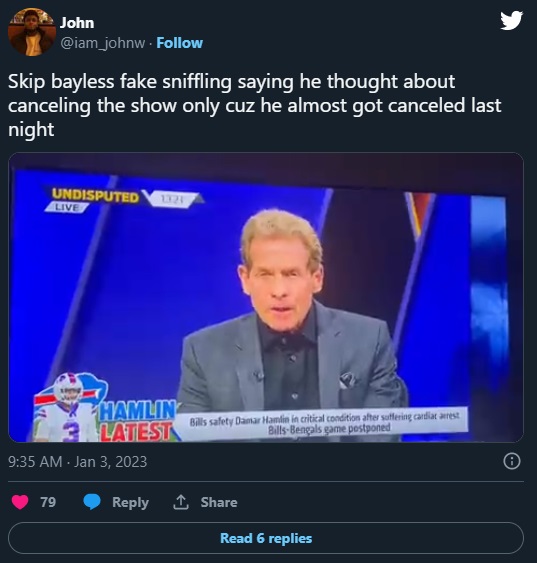 In the past Skip Bayless has found himself in similar situations like this. For example when Dak Prescott revealed his older brother committed suicide he said some things that people felt was insensitive about mental health.
To his defense his tweet could be read as him saying that the game was irrelevant after the Damar Hamlin collapsed, but the things he said before the last part made it easy to be misconstrued.
Will Skip Bayless ever recover from being cancelled this time? Was that tweet the reason why Shannon Sharpe didn't show up for work? All in all Undisputed kind of won in the end, because they got people to tune in, and for them ratings is the most important thing. The question is will their ratings tank after today?