The hip-hop world is praying for 600 Breezy after he revealed some very tragic news about the love of his life. In an emotional statement he announced that his girlfriend Raven Jackson committed suicide due to mental health issues she was battling for years. Some time later he would share Raven Jackson's suicide note that she sent to him in the form of text messages.
Details About 600 Breezy's Reaction to His Girlfriend Raven Jackson Committing Suicide
Based on the things he said in his Instagram post 600 Breezy is having a severe mental breakdown over this tragic situation, which isn't surprising considering what he's going through. In a lengthy post where he shared his inner most feelings with world while writing directly to Raven Jackson he said, "Why would you do this to us…. I'm f****d up for the rest of my life baby. Mentally you just finished me… I would've died with you Raven. I'll never be able to love again". The two had been in a seemingly happy relationship since 2020.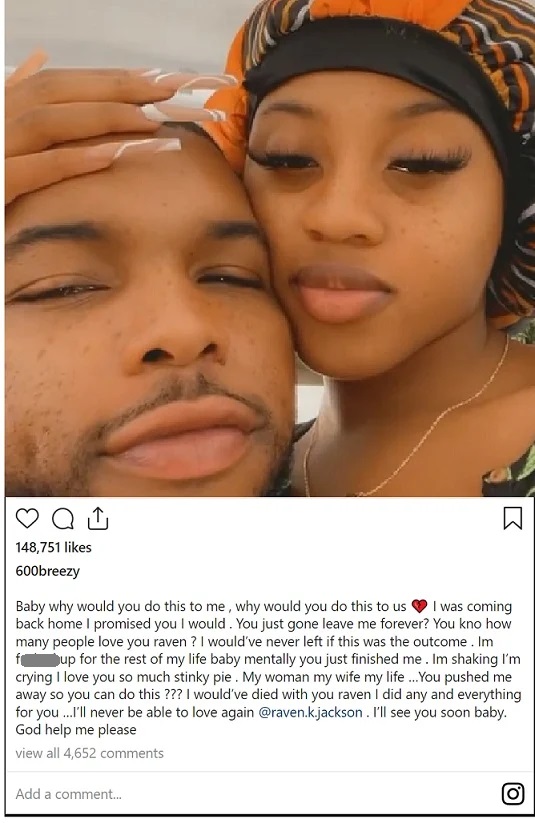 Why Did 600 Breezy's Girlfriend Commit Suicide? Raven Jackson's Suicide Note in Last Text Messages to 600 Breezy Sparks Emotional Reactions on Social Media
When 600 Breezy revealed his girlfriend died by suicide he mentioned that she was battling mental health issues for years. In Raven Jackson's last text messages before committing suicide, she explained in detail to 600 Breezy why she had come to the drastic decision to end her young life. In her suicide note Raven Jackson revealed that she felt "living was overrated". She felt that nothing in her life felt real including her relationship, and even her own body.
She was also suffering from several health issues including a "weak heart" and pain in her ovaries, which doctors couldn't diagnose properly. She also had a skin condition that made her feel like she had bugs on her skin that would never come off even after showers. Throughout Raven Jackson's suicide note she let 600 Breezy know that he was one of the best things that happened to her.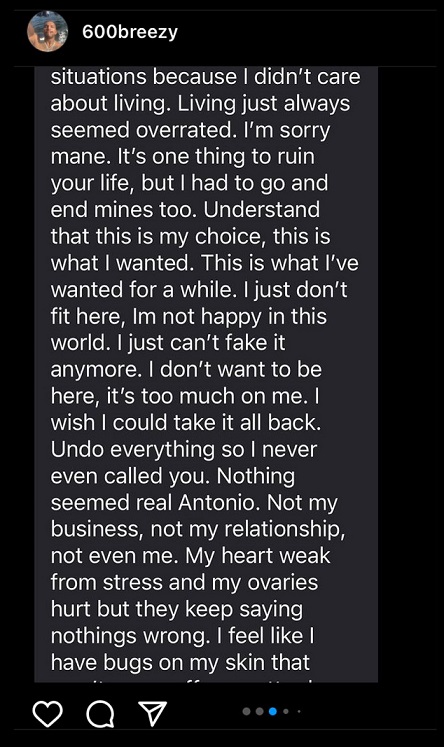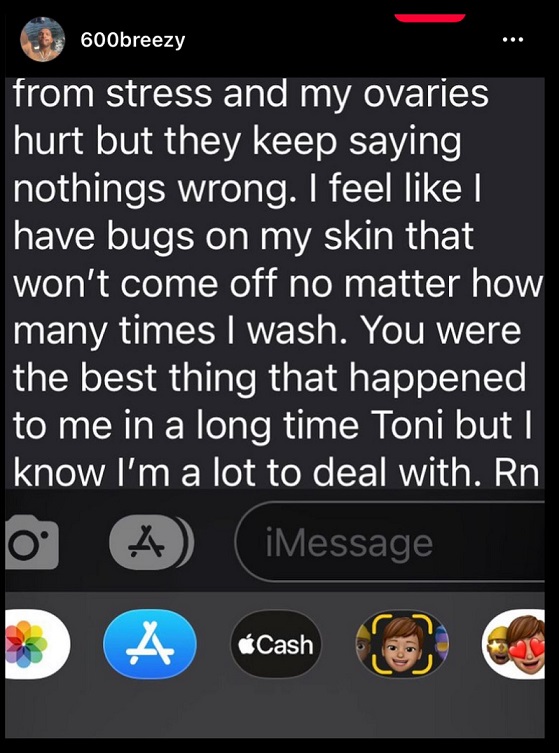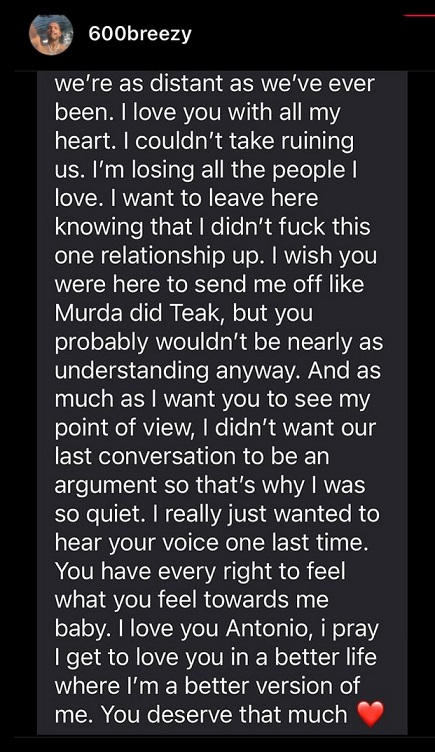 Social media reactions to Raven Jackson's last text messages to 600 Breezy were very emotional. Many people reiterated the importance of having a great support system, and being able to notice when someone is crying out for help in their own way.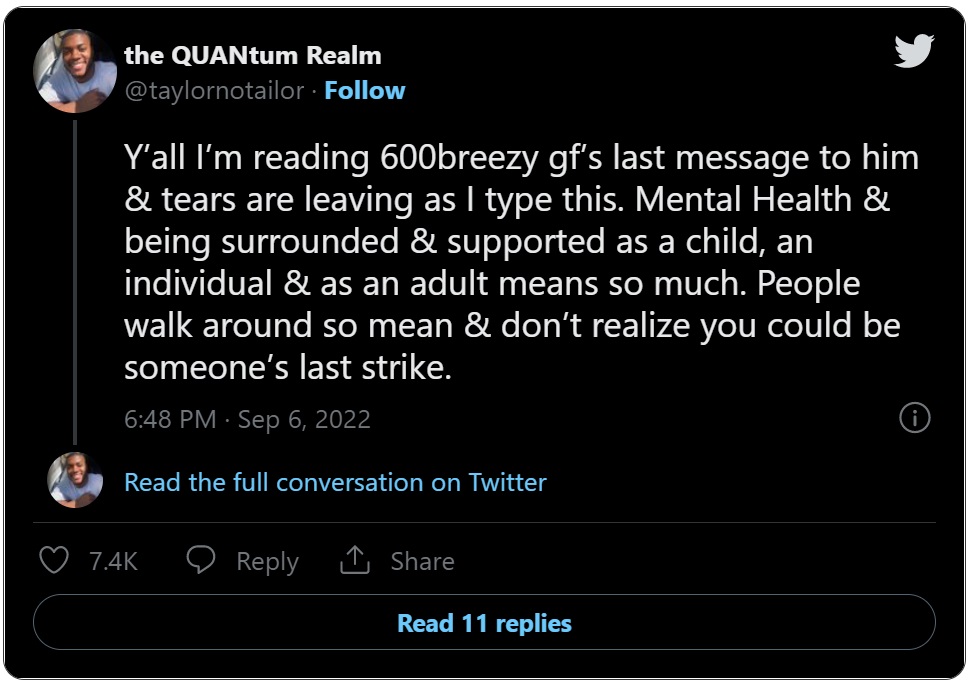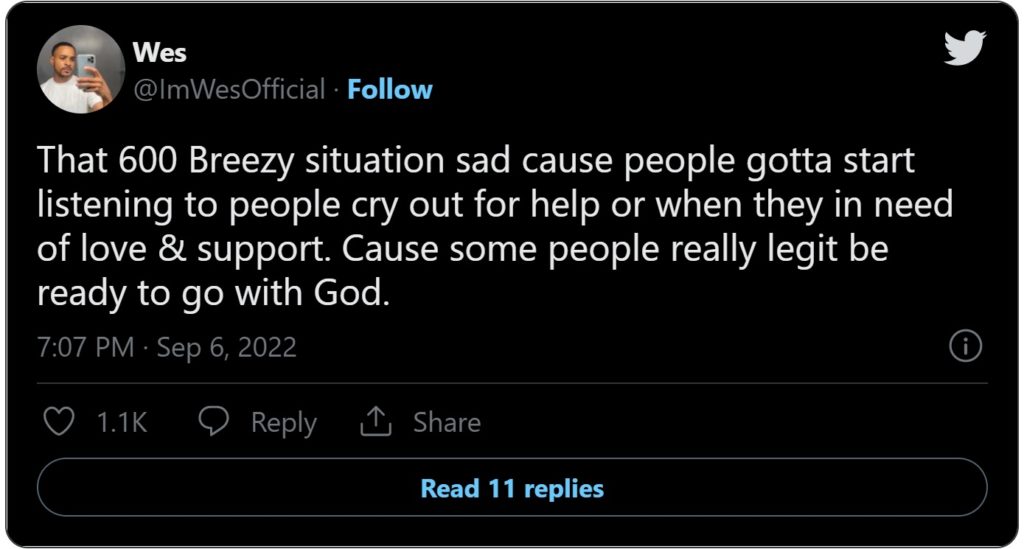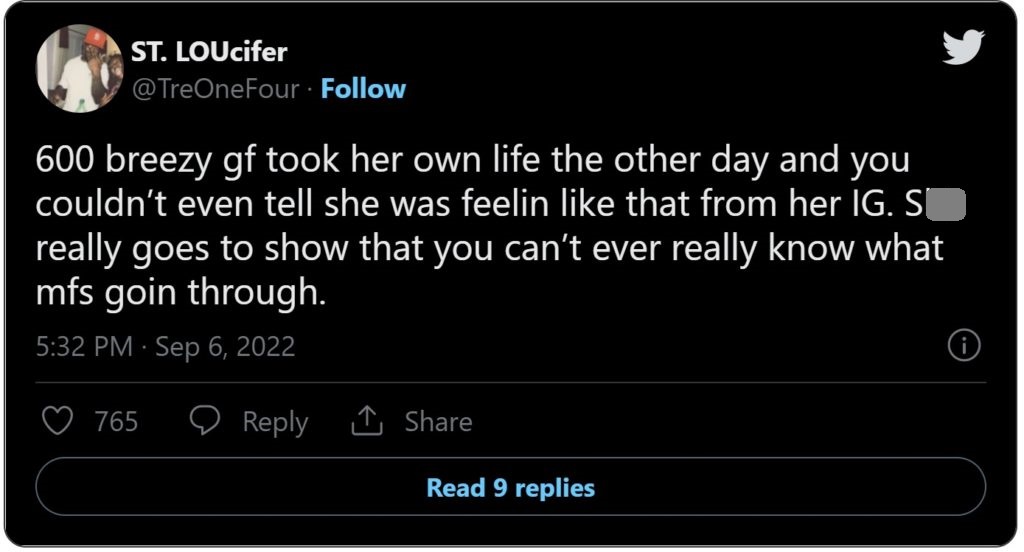 According to CDC suicide is one of the leading causes of death in America. Each year around 45,000 people die by suicide, which amounts to one suicide death every 11 minutes. When you take into account the entire world almost 800,000 people die by suicide each year, which amounts to 1 suicide death every 40 seconds. Sadly Raven Jackson is now part of that statistic, which is too tragic. Prayers up for her family.