Warriors fans' worse nightmare came true in the second half a contest where Golden State saw themselves struggling against Celtics defense. Stephen Curry went down with a leg injury, and left the game after limping noticeably. The dynamics of how Marcus Smart injured Stephen Curry involved a broken unwritten rule that every baller knows about. Naturally, Steve Kerr got very angry.
Steve Kerr Almost Fights Marcus Smart After Stephen Curry Ankle Leg Injury during Celtics vs Warriors
As you'll see in the footage below Marcus Smart injured Stephen Curry by doing a very dangerous technique every basketball knows causes injury at a high rate. While going for a lose ball Marcus Smart dives into Stephen Curry's leg, and not surprisingly an injury occurred.
Over the past few years fans have seen many NBA players go down with serious injuries due to players making dangerous dives. Most recently before the Marcus Smart injured Steph Curry, was the moment from last season where Lebron got that high ankle sprain from Solomon Hill diving into his leg.
As Stephen Curry was being taken out the game, Steve Kerr wanted to fight Marcus Smart. Referees were seen holding him back as he yelled about Marcus Smart diving into Stephen Curry's leg. You could see him pointing at his leg area while exchanging explosive words with Celtics most notorious tough guy.
This was the moment before the injury happened. All that weight of Marcus Smart's body is in the midst of crashing into Stephen Curry's leg. Most likely has a high ankle sprain, which takes months to fully recover from in terms of playing without pain.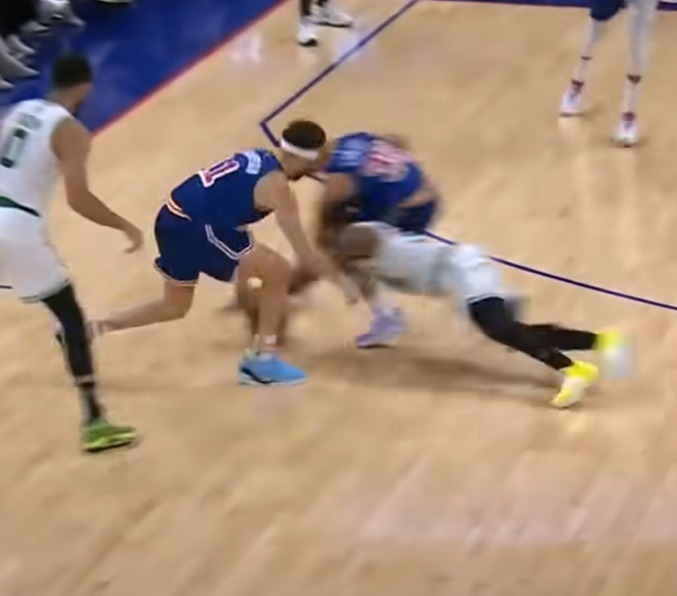 When it comes to lower leg injuries anytime it happens to Stephen Curry it brings back the horrifying string of ankle issues he battled early on in his career. Both his ankles have been surgical repaired, and he wears those massive ankle braces.
Hopefully this injury isn't anything serious, because that would probably make Marcus Smart the most hated man in California. Let's all hope for a speedy recovery to Stephen Curry.