An emotional moment during the 2021 NBA Draft was heartbreaking and special at the same time. Adam Silver and the NBA drafted Terrence Clarke from Kentucky who died in car wreck back in April. Terrence Clarke's mother was crying as they paid tribute to her son. The moment gave his family the opportunity to feel what it would be like if Terrence Clarke got the chance to realize his dream of making the NBA.
Reports that Kentucky's Terrence Clarke was dead hit the sports world on April 22, 2021. Terrence Clarke was an NBA draft prospect, and had recently signed to LeBron's Klutch Sports management company in preparation for the 2021 NBA draft.
In his freshman season for the Wildcats Terrence Clarke averaged 9.6 ppg, 3 rpg, and 2 apg. He battled a right leg injury that kept him from playing in games against the Southeastern Conference, but still was able to put up decent numbers. He was 6'7″ and 194 lbs with great length, the perfect prototype for today's NBA.
With the next pick in the 2021 NBA Draft, the NBA selects Terrence Clarke from the University of Kentucky. #LLTC5 💙🤍 pic.twitter.com/fJYvShrgK3

— NBA (@NBA) July 30, 2021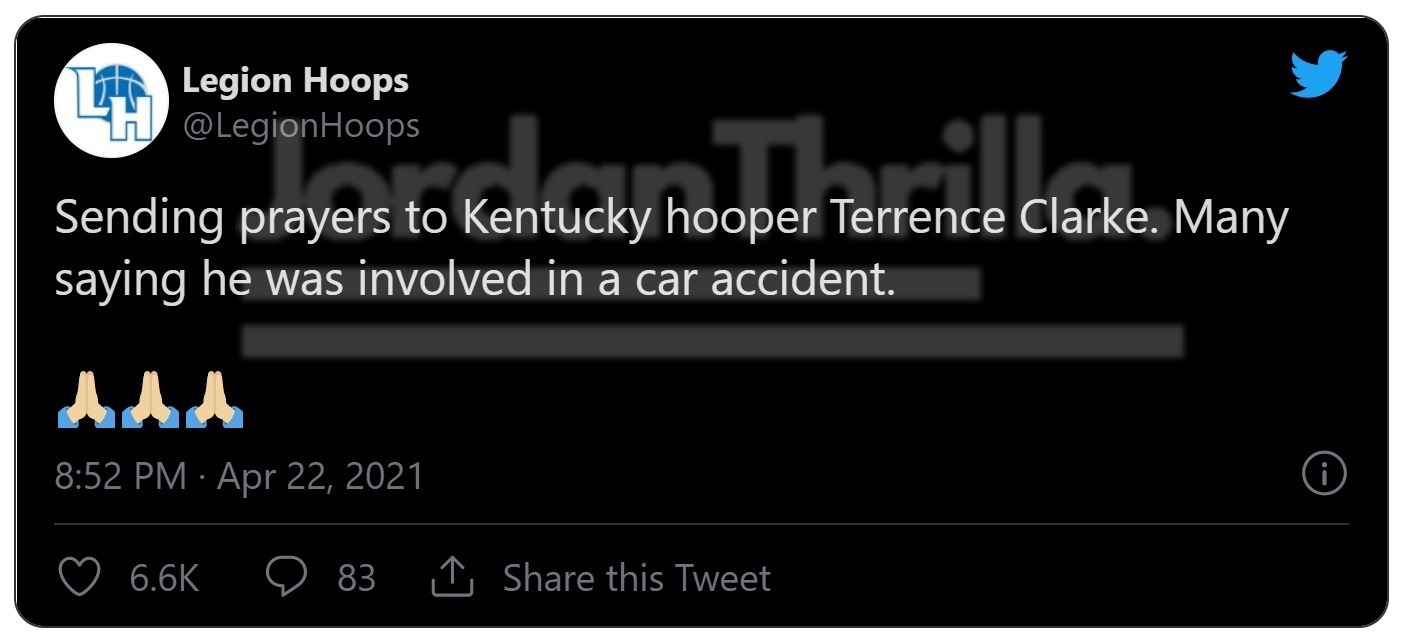 His most impressive performance during his freshman season came when scored a career high 22 points against Georgia Tech. This game really showed he had potential to be great at the next level. Tonight would have been his dream night if he was still alive.
How Kentucky Wildcats Terrence Clarke's Car Accident Happened
According to police reports Terrence Clarke ran a red light while he was speeding. The car wreck killed Terrence Clarke after he struck a car making a left turn. He was the only person driving in his vehicle at the time. It's still not clear if Terrence Clarke was drinking when the accident happened.
This situation is very tragic not only because he was only 19 years old, but also because he was just getting ready to experience the NBA dream he had worked all his life towards.
The NBA Drafting Terrence Clarke during the 2021 NBA Draft will never be forgotten.
Author: JordanThrilla Staff