Orlando Brown is trending again, and naturally you already know it's not for a good reason. This time he posted a video trying to stunt and flaunt his wealth, but again it backfired in a hilarious and also sad way.
Was Orlando Brown Hiking in Fake Manila Jordan 4's Claiming they Were $100K?
In a recent video Orlando Brown was hiking in $100K Jordan sneakers, or so he claimed. Based on the footage it appeared Orlando Brown was wearing Manila Jordan 4 sneakers. These rare Retro 4 colorways were released back in 2020, and there only 150 pairs available in the world.
The Evidence Behind Orlando Brown Fake Manila Jordan 4 Theory
People on social media believe Orlando Brown is wearing fake Manila Jordan 4's, because in the video they just seem a bit off. In addition Orlando Brown is only worth $20,000, so there's no way he could afford $100K shoes, unless they were given to him. Lastly Manila Jordan 4's cost nowhere near $100K. If you wanted to buy a new pair right now at most you would pay around $40K. Likewise, fake Manila Jordan 4's can be found online for less than $100.
Take a look at the video and evidence they are fake.
Here is a closer look at Orlando Brown's fake Manila Jordan 4's. In the first photo the word "Manila" is offset incorrectly on the yellow tag. In the second photo below we pointed out features about the Jordan logo that also probably proves they are counterfeit sneakers.
Look closely at the Jordan logo on the tongue of his sneakers. You can see Jordan has a pot belly, and also his hand is drawn incorrectly. This is a sure fire sign they are fake.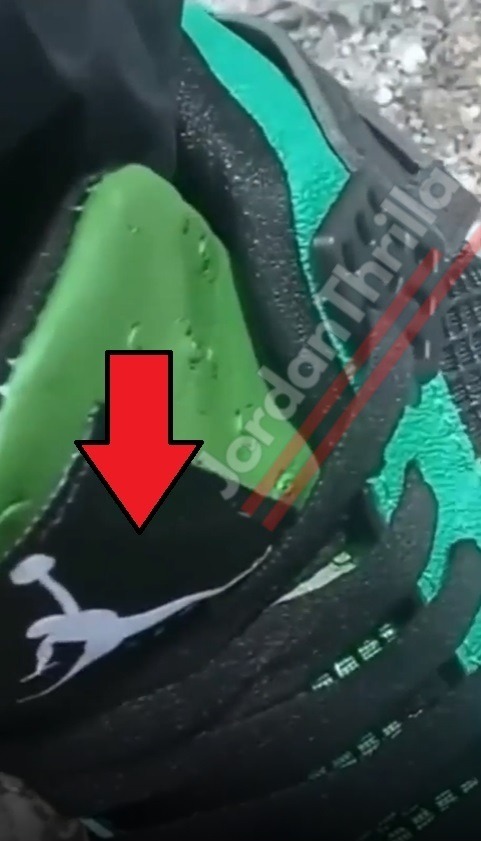 Every time you see Orlando Brown acting crazy it's so sad remember that it's same person from the 'That's So Raven' show all those years ago. It really seems like child actors who worked for Disney are cursed, because they all end up going crazy down the line in some way.
If Orlando Brown paid anymore than $100 for those fake Manila Jordan 4's then he got ripped off.