The secret behind the Suns 8-0 run at Orlando Bubble may have been revealed. A woman exposed Suns gang banged her at Orlando Bubble in a viral video. All the Suns players allegedly took turns smashing her throat.
The revelations coincides with article we wrote a few weeks ago about a woman claiming NBA players tried sneaking her in to the Orlando Bubble when the season first restarted. Listen to the woman accusing Suns of gang banging her at the NBA bubble.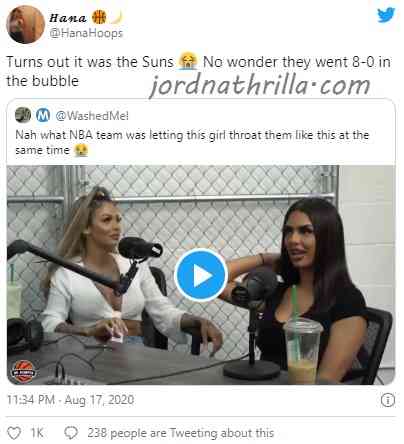 The Phoenix Suns transformed into a different team when they arrived at Orlando Bubble. It appears that may have been because they were getting a service no other NBA team was getting. If her story is true, the Suns players gang banged this woman while other NBA players where losing their mind from boredom.
Fans are now wondering how it all it went down. Devin Booker is the Suns leader in the court, was he also the leader in the alleged Suns gang bang? Who went first and who was the nasty person that went last? Was the woman tested for COVID-19 and STDs?
Suns gang banging a woman at Orlando Bubble would overshadow their incredible run to almost make the playoffs.
Author: JordanThrilla