Beanie Sigel Admits To being Snitch Rat During a Live Phone Call and Goes Viral.
Hip hop legend Beanie Sigel allegedly admitted to being a snitch during live phone call. After Kingearner tells him it's not good to tell on anyone, Beanie Sigel admits he is a snitch in response.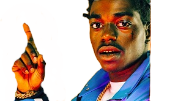 The video is shocking to see as Beanie Sigel seemed like one of the old school rappers who was very against snitching. He even had some alleged disparaging comments about Tekashi SIX9INE during his infamous trial.
Snitching has become a major discussion in hip hop over the past few years. It's controversial topic, some people think shouldn't really be.
Some people feel Hip Hop's stance on no snitching policies is counter productive. It will be interesting to see if Beanie Sigel responds to these allegations, and the words he said during the phone call. Maybe people are misconstruing them.
Author: JordanThrilla