IHOP is trending for all the wrong reasons after one of their locations decided to make their worker shortage issues into a political statement against Joe Biden. The IHOP location reduced their hours of operation, and gave a reason that many people are calling unprofessional, and fraudulent.
IHOP Blames Joe Biden Giving out Free Money for their Worker Shortages
When people walked into the IHOP location in question, they were greeted with a sign that reads,
"Due to the fact that Joe Biden gave out way too much free money and nobody wants to work anymore, we are forced to reduce our hours during the week. Thank you for your understanding and patience".
As you will see below IHOP's worker shortage sign blaming Joe Biden had many typos, and grammatical errors, which added to how unprofessional it seems to be to many people.
Based on the sign details the IHOP location now closes at 5pm during the week, and 10 pm on weekends. IHOP locations are usually open either 24 hours or very late into the night/early morning.
People who party a lot know that IHOP was one of those places you could go to get some late night food after hours of clubbing. It seems like those days are coming to an end.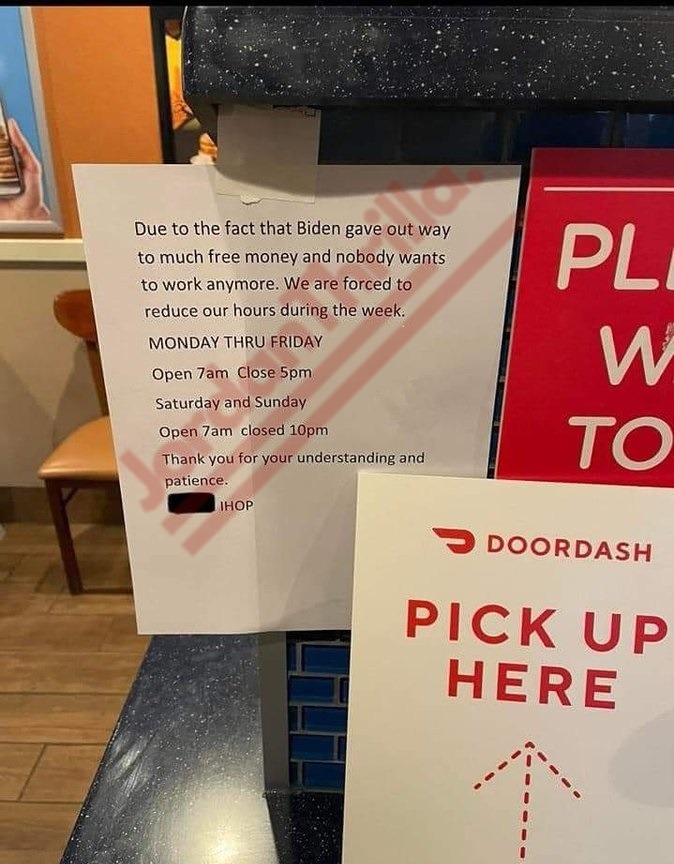 Why is IHOP Blaming Joe Biden's Free Money for Worker Shortage if IHOP Received PPP Loans?
What's crazy about IHOP blaming Joe Biden giving out too much free money for their worker shortage, is that the Federal Government gave IHOP a massive amount of free money in PPP loans. In fact IHOP got 43 PPP loans from the government according to the Tracking PPP website service.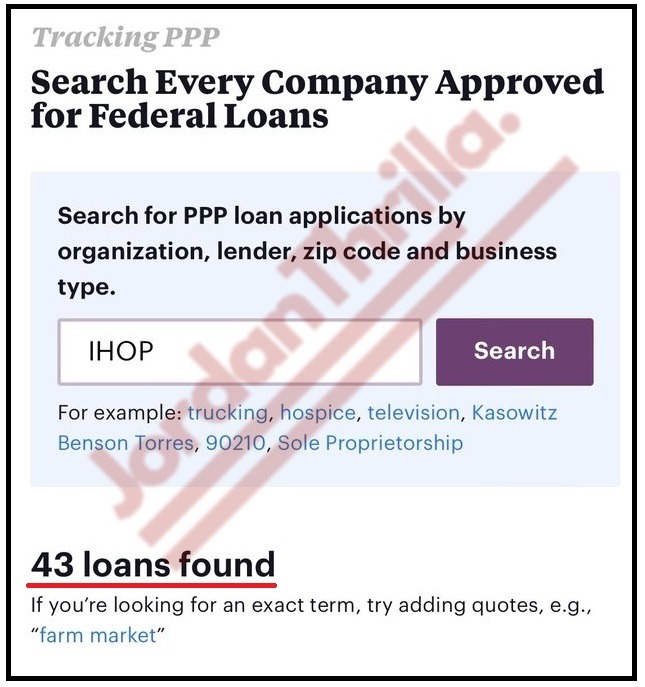 A PPP loan comes from the $953 Billion Paycheck Protection Program created by the US Federal Government in 2020 as part of the CARES Act. The government gave corporations and small businesses billions of dollars in free money that was supposed to go towards paying their employees while they were out of work during the pandemic. However, in many cases businesses would use the money for other things, or people would create fake businesses in PPP Loan fraud schemes to get the free money.
It's very strange to see IHOP complaining about Joe Biden's free money, after receiving free money from the Federal Government. Do you sense the hypocrisy in that?
Details Behind #BoycottIHOP (Boycott IHOP) Trending Nation Wide
Naturally people on social media were not happy that IHOP was using Biden politics as the reason behind the IHOP worker shortage and reduction of hours, especially considering their history of receiving a massive amount of PPP Loan free money from the government. This led to hashtag #BoycottIHOP 'Boycott IHOP' trending on social media.
Take a look at some of the reactions.