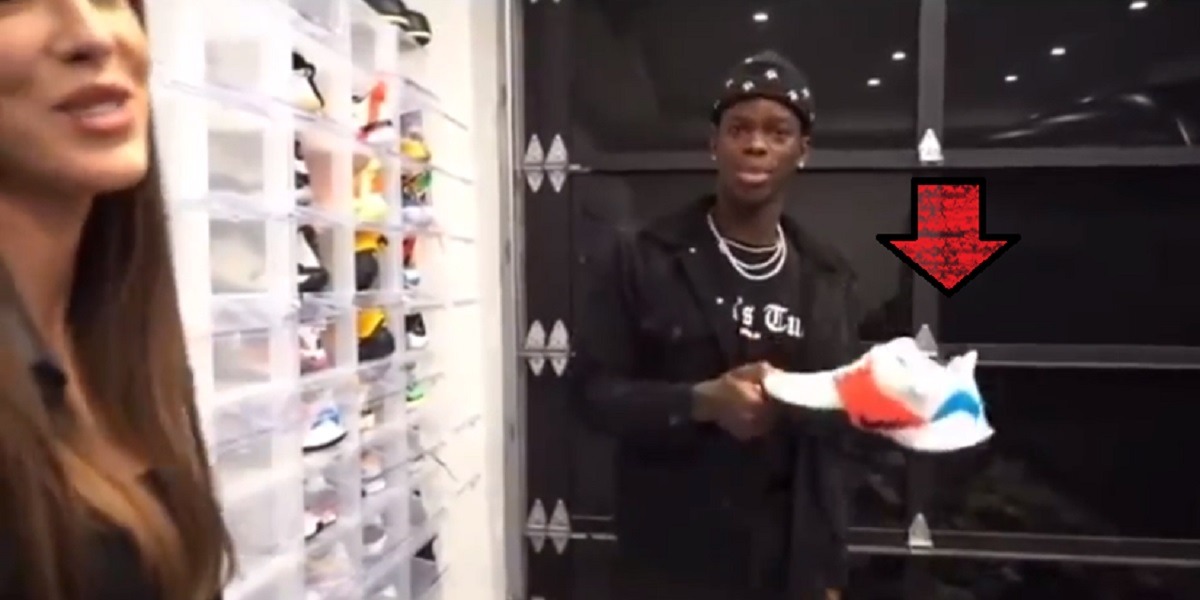 Some weeks ago during a heated Nets vs Lakers game frustrations boiled over the most when Kyrie Irving was ejected along with Dennis Schroder. The incident that led to them getting kicked out the game was Kyrie Irving trying to fight Dennis Schroder. The next day it was revealed that Dennis Schroder called Kyrie Irving the N-Word racial slur. Dennis Schroder was confused about the whole situation, because both he and Kyrie Irving are black. Video footage showed that even Kyrie Irving's teammates were confused as well.
Although Kyrie Irving explained on twitter the reasons he got so angry about a black man calling him the N word, it seems Dennis Schroder still feels a bridge was permanently burned. In a viral video revealed Dennis Schroder will never wear Kyrie Irving shoes again. In fact Dennis Schroder is giving all his Kyrie Irving shoes away for free.
The video below is in German with subtitles, but Schroder says "I have a lot of his shoes 30 or 40 pairs. Unfortunately I can't wear them no more. It's not possible after what happened in the game. I cannot do it, not going to wear it again. We will do giveaways, for anyone who wants them I will donate so text me". Talk about shots being fired.
This is footage of the incident that took place that game.
This was what Kyrie Irving wrote the next day revealing why he got so mad.
Strangely there is also video of Kyrie Irving saying the N-Word in the past even though he wanted to fight Dennis Schroder for calling him the N-word in a non-offensive manner.
In the black community the N-word was changed into a term of endearment to take power away from racists who created another version the word to be derogatory. Naturally not everyone will feel comfortable with using any form of the word, due to it's origins. That is the sentiment Kyrie Irving seems to have now.
The easy way to tell the difference between the N-word used within the black community and the N-word used by racists is by looking at the last two letters. When spelled with the last two letters being "ga", black people can use the word among each other in a non offensive way. Racist people spell the word with a "er" at the end, which is offensive. Most people feel that Caucasians using any form of the word is considered offensive.
Dennis Schroder probably shares that sentiment that the word isn't offensive due to how black people have changed it into a term of endearment, which is why he lost respect for Kyrie Irving. The world now knows Dennis Schroder will not wear Kyrie Irving shoes again. A bold statement.
Author: JordanThrilla Staff