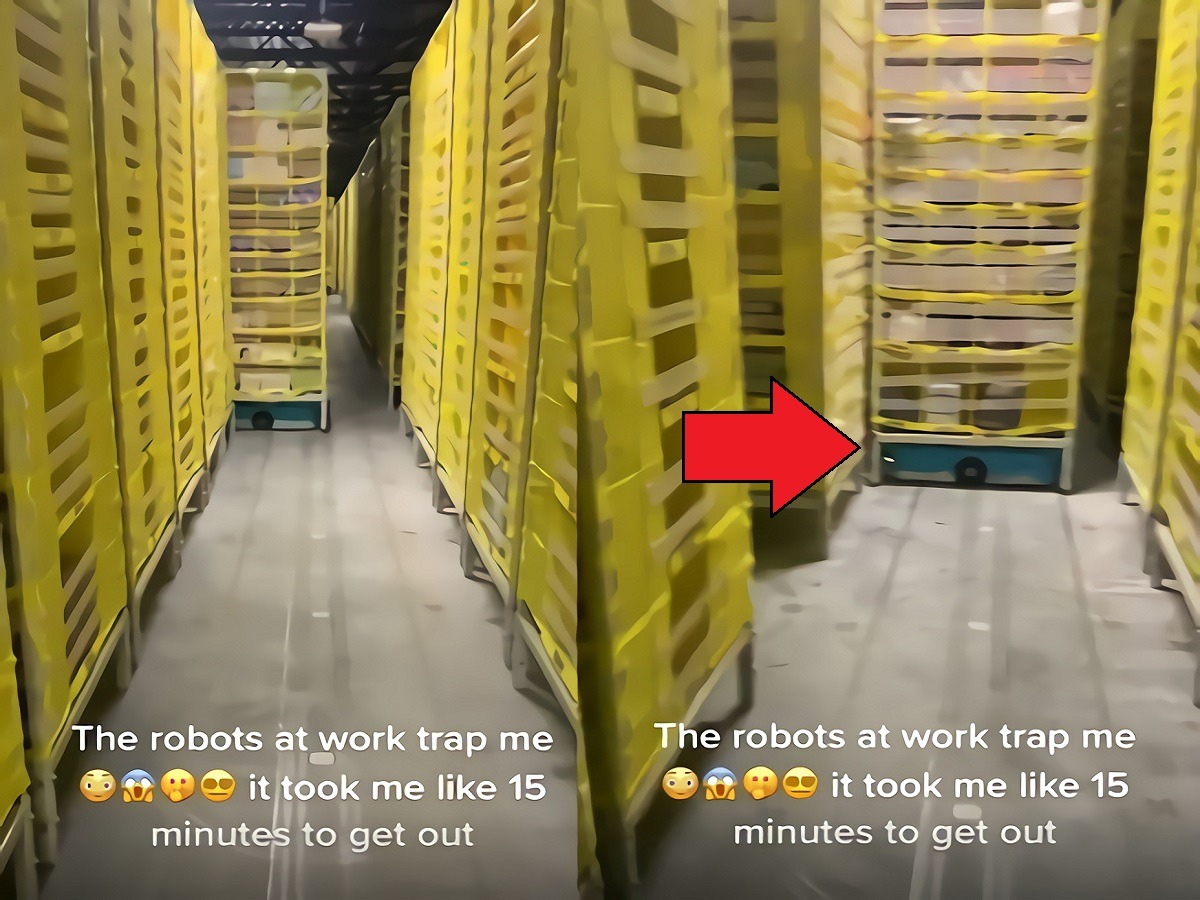 With the advancement of technology over the years robots have become an integral part of many businesses in ways never before seen. One company that has taken full advantage of robot tech is Amazon. If you go inside one of their warehouses you can find Kiva Systems designed robots bringing human employees products by moving entire warehouse shelves. This all sounds cool, but there is actually something creepy going on with Amazon robots, at least that what one employee claims.
Scary Video Shows Robotic Warehouse Shelve Trapping an Amazon Employee Strategically
A viral TikTok video posted by TikToker 'robotman77' shows the horror he went through when Amazon robot shelves trapped him inside a product warehouse. Amazon's robotic warehouse shelves are tall yellow devices that are moved around by disc shaped robots controlled by Artificial Intelligence.
In the footage several of the robots blocked aisles between the shelves in every direction.
No matter, which way the Amazon employee turned there was a robotic warehouse shelve blocking his exit. At one moment in the footage one of the robots even blocked him at the same moment he saw an opening to escape. It was like they were toying with his emotions. Luckily for him after about 15 minutes he was able to escape. Robotman77 captioned the video with a messaging saying,
"It can sometimes get crazy. Them robots like to mess around."
Have Amazon Warehouse Robots Gained Consciousness?
While writing this article this situation made us think of the Amazon Prime series "Humans". It's a award winning show about robots gaining consciousness, and the disasters that would bring to a society that was relying too much on Artificial intelligence.
In that show one of the potential first signs of a robot gaining consciousness was erratic or strange behavior.
Could it be possible that Amazon robots gained consciousness, and are now trolling Amazon employees for fun? That's a terrifying thought.