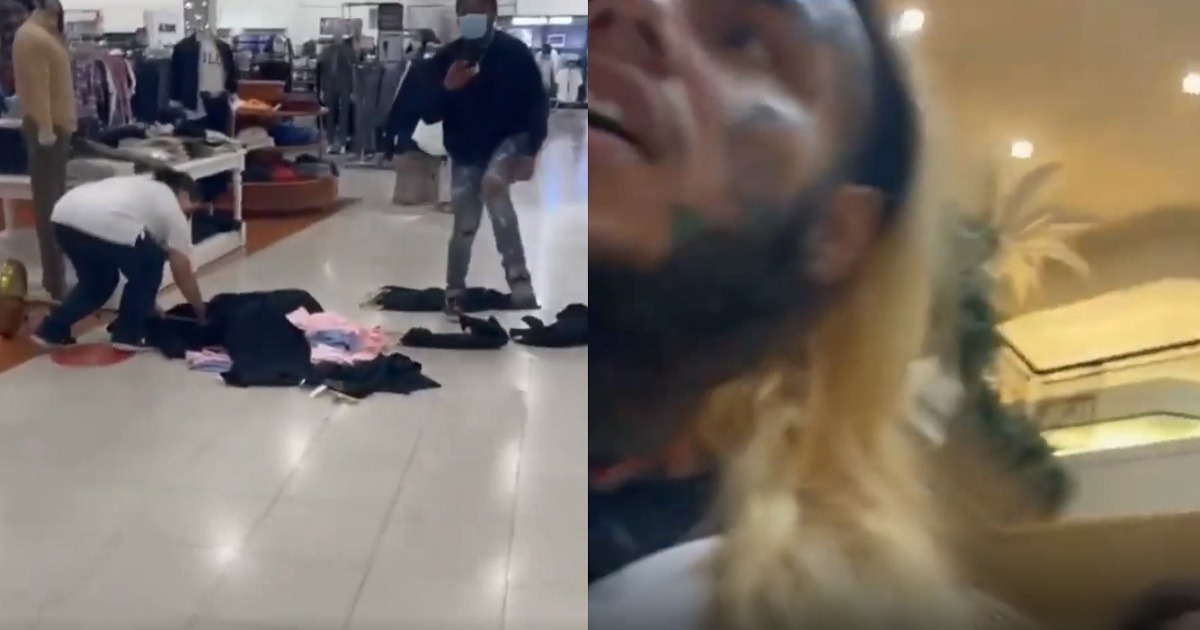 Tekashi 6IX9INE got into a fight with goons at the mall, and he claims things didn't go well for them. However, they claim he is the one that got worse end of the deal. Ever since Tekashi snitched on Shotti's whole crew, many people have been wondering when the goons would finally test his gangster. He gloats on social media letting the world he isn't afraid, and basically calls out his enemies for being all talk. It appears today the talking turned physical, and ended up in a Mall store brawl.
Did Goons Run Tekashi69 Out the Mall?
Viral footage shows the aftermath of goons fighting Tekashi69 at the mall. He can be heard saying that his attackers got the bad end up of the deal, as he appears to walk away unscathed. However, it also appears the goons were running Tekashi 6IX9INE out the mall while they were saying they had just beat him up. The video can be interpreted two different ways.
In a clubhouse interview after the mall fight Tekashi 6IX9INE revealed that there was no security when the incident started happening. Is he capping to save face? Or are the goons lying to avoid the embarrassment of getting washed by Tekashi69?
Tekashi69 has embraced being a villain in the hip-hop world, who isn't afraid to constantly taunt his enemies. Not surprisingly this has led to many threats, but he brushes them off like small talk. He might need to start taking his enemies more seriously, because now they are actually starting to run up on him.
If there is any takeaway from the situation it's that Tekashi probably needs to move smarter if it that was easy for people to put hands on him at the store.
Author: JordanThrilla Staff