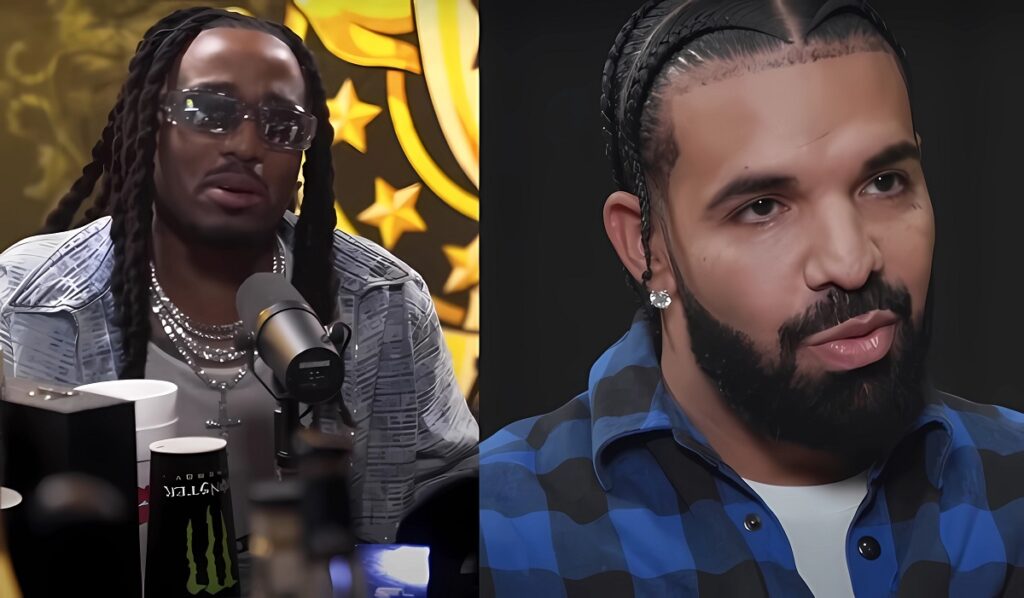 Quavo, one of the members of the rap trio Migos, recently dropped a song that caught the attention of many hip-hop fans. In his new effort titled "Honeybun", Quavo raps about his lavish lifestyle and his disdain for fake people. Some listeners noticed that Quavo might have thrown some subtle shade at Drake, his former collaborator and tour mate, on one of the lines.
Is Quavo Dissing Drake and Declaring War on J Prince in "Honeybun" Lyrics?
On the second verse of "Honey Bun" lyrics, Quavo raps: "Singing like Diana Ross, don't want to hear no sorry for my loss". This line could be interpreted as a diss towards Drake, who is known for his singing abilities and his emotional lyrics. Some fans speculated that Quavo was referring to Drake's recent album with 21 Savage, titled 'Her Loss', which was released in February.
Another possible reason why Quavo might have dissed Drake is their connection to J Prince and J Prince Jr., two influential figures in the rap industry and the founders of Rap-A-Lot Records. J Prince is a mentor and friend to Drake, who helped him end his beef with Pusha T in 2018. J Prince Jr is also close to Drake, and has been seen hanging out with him on several occasions. In fact if you look around social media you'll that some people think that Quavo was declaring war on J Prince in this song.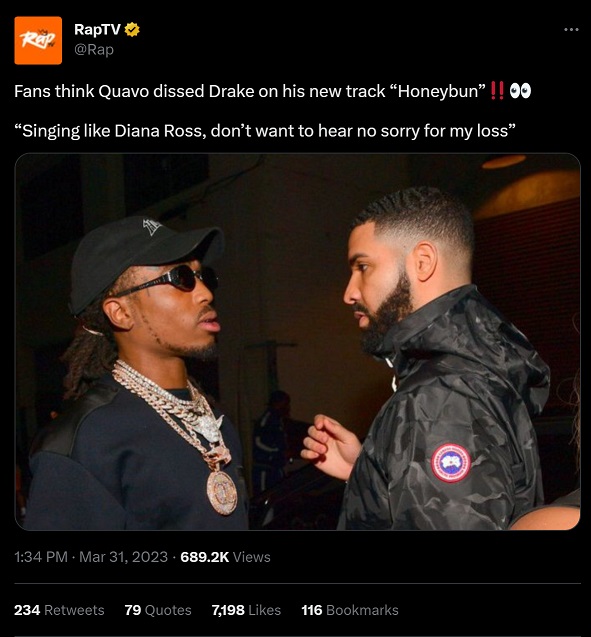 The name of track sounds peaceful, but this track seems to be hard hitting in terms of the alleged true meaning of the lyrics.
Not too long ago J Prince appeared to threaten Offset during a 'Million Dollaz Worth of Game' Podcast episode.
So far, neither Drake nor Quavo have confirmed or denied that they have any issues with each other. However, some fans think that their relationship might have soured over the years, especially after Takeoff died after an alleged argument with J Prince Jr's entourage. They also think that Quavo's "Honey Bun" line was a subtle way of expressing his resentment towards Drake for siding with J Prince and J Prince Jr.
What do you think? Is Quavo really dissing Drake on his new song? Or is it just a coincidence?