The beef between Blika and Sauce Walka has officially turned deadly. Sauce Walka was shot at on IG Live during his Blika Paperwork party to celebrate exposing him a snitch. As music was playing gun shots at Sauce Walka rang out sending everything into a frenzy.
Sauce Walka survived the shooting, but people think this is a bad sign. Many people feel the Sauce Walka shooting is a major sign he is on borrowed time for exposing Blika's snitching paperwork.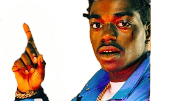 Before Sauce Walka was shot at on Instagram Live, he posted a video in Blika hood where he was posting the government documents that showed Blika snitched. It was a dangerous move considering him and Blika live in the same city.
The Sauce Walka shooting definitely shows that cooler heads are not going to prevail in this beef. This might end up being the first HipHop tragedy of 2021 the way things are going. Sauce Walka really needs to watch his back now, and stay safe.
Author: JordanThrilla