When Clippers traded for Doc Rivers most people thought it meant championship, because he was seen as the Lebron James of coaches. However, things came crumbling down quickly when Clippers lost a 3-1 lead to the Nuggets. On September 28, Clippers Fired Doc Rivers from Coach, and Phil Jackson is rumored to be his replacement.
It's been long 7 seasons for Clippers in the Doc Rivers era, so there is a deep connection between them. After Doc Rivers was fired from Clippers Coach, Doc Rivers left a heartbreaking message admitting he failed to fans. Take a look.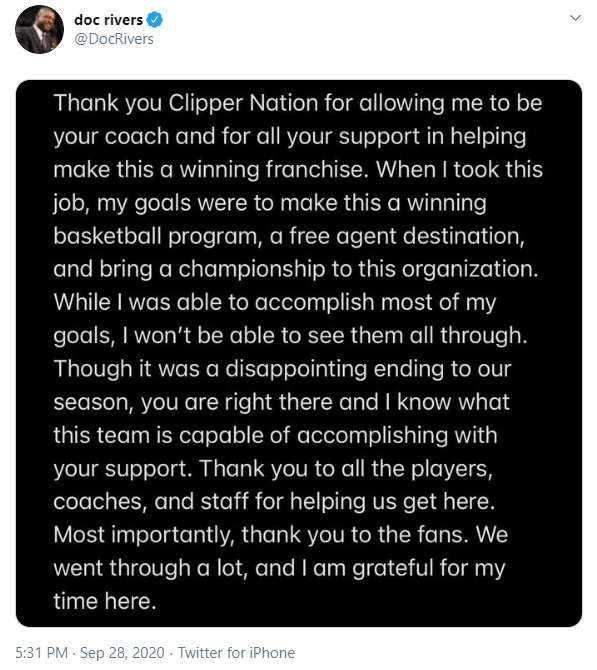 Doc Rivers allegedly had total control during his tenure as Clippers coach. Various reports alluded to him calling the shots in terms of the personnel they acquired. At one point Doc Rivers even had his son on the team playing superstar minutes.
On ESPN First Take Stephen A Smith conveyed how angry he was about Clippers firing Doc Rivers, saying he was never given a fair chance this season. He pointed out how the core group on Clippers team never got a chance to fully mesh with each other due to injuries. You could say the same about the Lakers, and they beat Nuggets 4-1.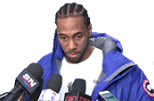 One thing people who share Stephen A Smith's sentiment are overlooking is that Doc Rivers has failed the Clippers in most of the 7 seasons he was there, with some colossal choking. A lot people forget that Clippers lost a 3-1 lead to Rockets in 2015 with Doc Rivers as head coach. Players like a washed up Josh Smith were going berserk on the Clippers during that series.
Doc Rivers lost two 3-1 leads in the 7 seasons he was Clippers coach. While it's very sad that Doc Rivers got fired as Coach of Clippers, you could argue that it was inevitable after what happened in the playoffs this year. Perhaps there is an unwritten "two strikes your out rule" for losing 3-1 leads in the NBA for coaches. He was also allegedly caught cheating with a much younger woman.
If Phil Jackson replaces Doc Rivers as Clippers Coach, that would be legendary for the city of LA and historical. It would truly be the basketball matrix to see Phil Jackson coaching Clippers.
Is Kawhi Leonard the new coach killer?
Author: JordanThrilla