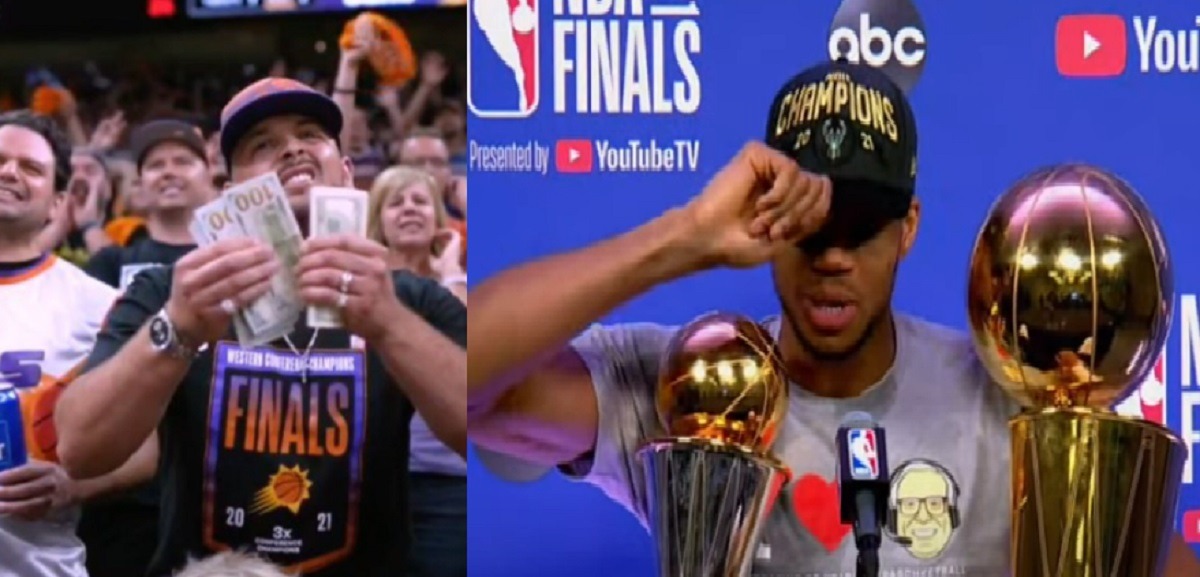 Giannis Antetokounmpo is an NBA Champion, and on course to reaching that goal he did many of the things people said he couldn't do. Giannis scored 50 of his teams 105 points, but that wasn't the highlight of his amazing night. The most impressive feat was Giannis going 17-19 from the free throw. As a result Giannis called out his haters who said he can't make free throws during his postgame interview after winning the NBA Finals. It also seemed like Giannis took shots at the Suns fan who was counting money during free throws.
As he was ranting about how important it is to belief in yourself even in the midst of failure, he began to focus on the people who questioned and trolled his free throw shooting. Giannis said, "People told me I can't make free throws. I made my free throws tonight and I'm a freaking champion". The guy who has hovered around 50% for his career at the line became an 89% free throw shooter in one of the biggest games of his career.
That Suns fan that counted money while Giannis was shooting free throws in Game 5 probably punched a hole through a wall during Game 6.
Giannis Antetokoumpo is the first player in the NBA history to put up a stat line of 50 points, 14 rebounds, and 5 blocks in the NBA finals. We know Lebron had 50 in 2018 too, but he didn't do what Giannis did on the defensive end. His heroics got Bucks their first championship in 50 years. Many historical moments led up to this culmination including the incredible block, and that unforgettable alley-oop.
Giannis calling out the Suns fans counting money and all the other people who trolled his free throws shooting in a postgame interview after winning an NBA title is the ultimate basketball flex. Had the Larry O'Brien trophy and MVP trophy sitting his lap like his offspring. It's going to be a painful summer for Suns fans.
Author: JordanThrilla Staff