Last season Ime Udoka took the NBA coaching world by storm by leading the Boston Celtics to the Finals in his first year as head coach. People started thinking of him as the prime example of what a young coach should be like. That all changed recently when it leaked that Ime Udoka cheated on his wife Nia Long with a unnamed member to the Celtics staff. Today his punishment was announced, and it has people wondering why it's so extreme, and also why details of what he did leaked in the first place.
Details on Why People Think Boston Celtics Management is Racist for Suspending Ime Udoka the Entire Season
Recently it was announced that Celtics are suspending Ime Udoka for the entire 2022-23 season. This is unprecedented especially considering Celtics were just in the Finals under his leadership. This has people wondering many things such as if there is something about this situation the public doesn't know. Stephen A. Smith made a great point during First Take when called out the fact that when white staff members of sporting teams have similar situations intricate details are usually kept under wraps.
In Ime Udoka's case everything about the situation somehow leaked to the public. Stephen A. Smith feels the only way that's possible is if someone within the Celtics organization wanted it go public presumably to embarrass him. In his eyes the only way this should have been made public is if Celtics are firing Ime Udoka, which they aren't. Instead they have suspended him for an entire season. From an ethics standpoint something seems a bit off. Did Ime Udoka sleep with the wife on Celtics staff member or something?
It's really sad that he was unfaithful to his wife, and broke workplace rules by having a consensual relationship with a coworker, but 82 games for cheating still seems a bit extreme to most people especially if he isn't getting paid. It's widely believe that Boston is one of the most racist cities in America, which has people wondering if Celtics management is racist for suspending Ime Udoka an entire season.
Would this happen to a white NBA coach in the same situation? Stephen A. Smith and others don't think so.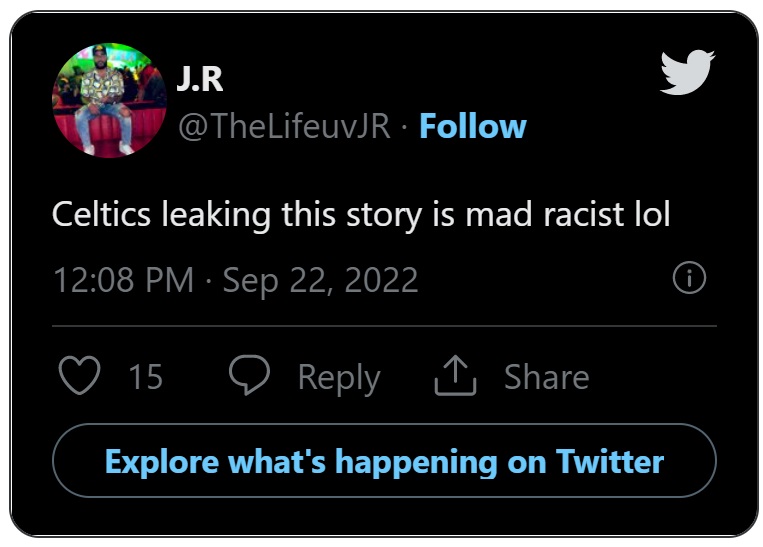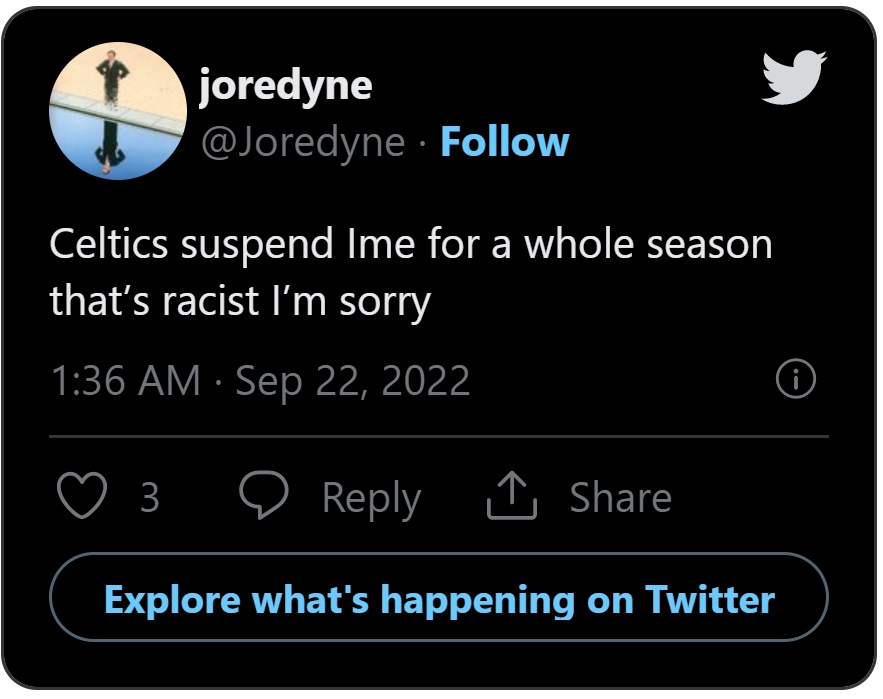 When Ron Artest attacked fans in the crowd during the Malice in the Palace he was suspended for 86 games. 73 regular season games, and 13 playoffs games. If Ime Udoka is also suspended for the the playoffs then his suspension for cheating in a consensual relationship would tie for the longest suspension for an on the court incident, if you can classify this as that.
The big questions here are how did Celtics find out that he was sleeping with a staff member, why did they make it go public, and is their a deeper reason they decided on an 82 game suspension? From the outside looking in it's not surprising some people think Boston Celtics are racist for suspending Ime Udoka the entire season.
In addition they embarrassed Nia Long by putting all this information out there for the media. It's tough to imagine this happening to a coach like Steve Kerr if he was in the same kind of situation.