Baby Putin is viral, and none other than Kanye West is responsible for it. Kanye West called himself "Baby Putin" During an Epic Rant shocking the world. Some people believe Kanye West is calling himself Vladimir Putin to pay homage to the president of Russia. As we all know Kanye West has a love for Russian ATVs.
The day started with Kanye West posting a video of himself urinating on a Grammy Award. Not too long after Kanye West used the name "Baby Putin" when referencing himself in a tweet.
Take a look at the "Baby Putin" Kanye West post.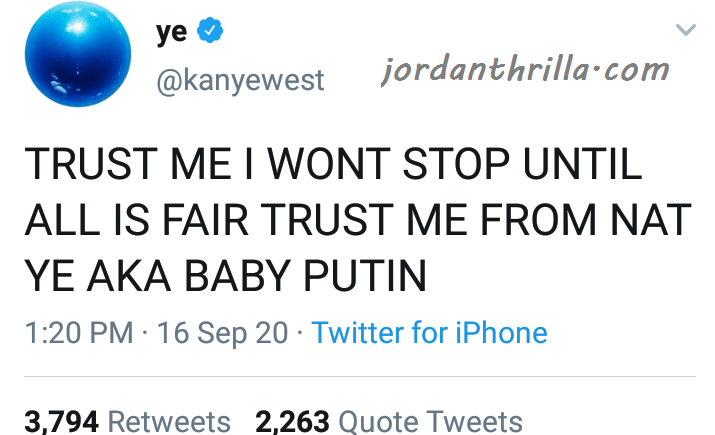 It's not clear the exact reason Kanye West called himself "Baby Putin". Perhaps Kanye West saw the alleged video of Vladimir Putin riding a bear. It could also be for a myriad of other reasons, focusing on a sole aspect of Vladimir Putin's perceived personality. However, you can't argue with anyone who says this means Kanye West is coming out as a Vladimir Putin fan.
2020 just keeps getting crazier for Kanye West. The most unpredictable superstar of all time Kanye "Baby Putin" West.
Author: JordanThrilla