The dynamics of the relationship between Charlamagne and DJ Envy has been a hot topic of conversation for many years. Due to their chemistry and how they seem to flirt with each other all time a conspiracy theory they are both gay has been circulating social media for a long time. Now DJ Envy is speaking out in an attempt to end all speculation regarding their alleged romance.
Is Charlamagne Dating DJ Envy as Secret Gay Couple? DJ Envy Responds to Rumor of Gay Relationship with Charlamagne Tha God
Many people on social media strongly believe that DJ Envy is smashing Charlamagne. The evidence of them being a gay couple is based on all the incidents between them that seemed like things that would only happen when two people have a romance going on behind the scenes. For example a few years ago Charlamagne bought DJ Envy a sculpting of his butt. Of course he acted like it was joke, but people thought it was one of those jokes that had truth intertwined within. They have had many other occurrences since then that fueled the conspiracy theory that Charlamagne and DJ Envy are gay.
In a recent video DJ Envy made a bold statement they may or may not end the speculation regarding his intimate preferences. In the footage DJ Envy explicitly stated that he is not dating Charlamagne. The tone of his voice seemed to convey that he was bit agitated he even needed to speak on the rumor. A mistake he possibly made was not mentioning if he is or isn't gay, which leaves room for the speculation about his preferences to continue.
This is an example of the reactions to that time when DJ Envy was playing with Charlamagne's butt sculpture.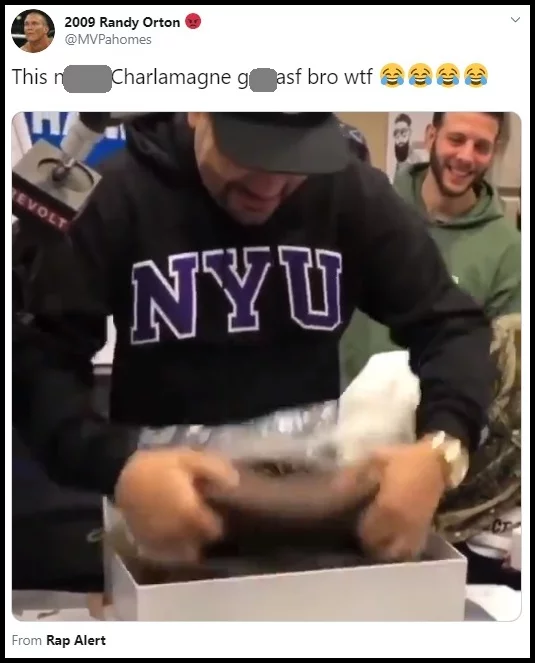 If DJ Envy is dating Charlamagne in a gay relationship the world will never truly know, because they will keep publicly denying it. People will probably keep speculating no matter how many times they say they are aren't. At this point they should both stop trying to convince people they aren't, and just stop speaking on it. Internet rumors like this never truly go away, especially with all the video footage of the interactions between them.