Mike Tyson is fighting Roy Jones Jr. on September 12. Take makes things crazier Nate Robinson will be fighting Jake Paul on the undercard. It's hard to tell which fight people should be more excited about.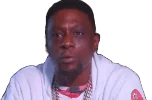 Originally Mike Tyson was supposed to fight Shannon Briggs in a bare knuckle for around $30 Million. Out of nowhere Mike Tyson decided to fight Roy Jones Jr, forfeiting that hefty payday. The terms of his new match haven't been announced, so maybe he is making more.
It's expected that this boxing event will do numbers on par with Floyd Mayweather events.
Author: JordanThrilla