Mo3's Dallas goons have responded to Trapboy Freddy celebrating Mo3 death, and it sounds like he is in serious danger. Mo3's goons threatened Trapboy Freddy with a 24 hour notice after the Lil Boosie shooting at Big T plaza.
Only few hours after rumors spread that Lil Boosie got shot while being in Dallas attempting to pay respects to Mo3, they issued stern warning to Trapboy Freddy.
In short Mo3's Dallas goons told Trapboy Freddy "hide", because they know where he is. They heard clearly what he said in that sad video about Mo3's death, and ended the video saying "it's going down".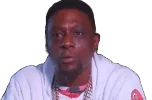 As you may or may not know, Trapboy Freddy posted a video smoking a victory blunt and laughing at the scene where Mo3 was shot, right after it happened. The disrespectful footage made Trapboy Freddy look very guilty, even if he isn't.
Trapboy Freddy sounded like he wanted all the smoke when he disrespect Mo3's dead body, but it will be interesting to see how he reacts to a threat like this.
Mo3's goons told Trapboy Freddy to leave town ASAP, but will he listen? Hopefully cooler heads can prevail, and no more casualties happen. HipHop needs peace and unity after all these recent tragedies.
Author: JordanThrilla