Montrezl Harrell said a racist comment to Luka Doncic during Mavericks vs Clippers Game 3. After scoring a basket over him, Montrezl Harrell says "B**ch A** White Boy" to Luka Doncic. The camera zoomed in on Montrezl Harrell as he made the racist comment about Luka Doncic so it was very easy to hear.
Take a look at the shocking footage, and make sure to read Montrezl Harrell lips if you can't hear him make the racist comment "B**ch A** White Boy" toward Luka Doncic.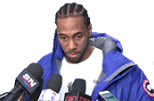 Clippers have been playing Luka Doncic physically all series to get in his head. It looks like they are taking a step further now, and trying to bully him with racist comments. Montrezl Harrell calling Luka Doncic a "B**ch A** White Boy" is simply uncalled for to a lot of people. Many people are saying it was just plain disrespectful and racist.
There's no way Kawhi Leonard condones his teammates using that type of language toward their opponents.
Author: JordanThrilla