Imagine sitting next to a stranger on a plane who offers you $100,000 to take off your face mask for the entire flight. Would you accept it? That's what happened to a woman who was flying on Delta Airlines with Steve Kirsch, a tech tycoon and anti-vaccine activist who claims that masks don't work against Covid-19.
Details on How a Woman Turned Down $100K Offer to Remove Her Face Mask
Kirsch, who is worth an estimated $230 million and is credited with inventing one of the first versions of the optical mouse, took to Twitter to share his bizarre story. He wrote: "I am on board a Delta flight right now. The person sitting next to me in first class refused $100,000 to remove her mask for the entire flight. No joke. This was after I explained they don't work. She works for a pharma company".
He then added that he started the bidding at $100 and increased it gradually until he reached $100K, but the woman still declined his offer. He also claimed that she took off her mask periodically to eat and drink. Kirsch's tweet sparked outrage and ridicule online, with many people calling him a "creep", a "weirdo", and a "liar". Some also questioned his motives and sanity for making such an offer, while others said they would have taken his money without hesitation.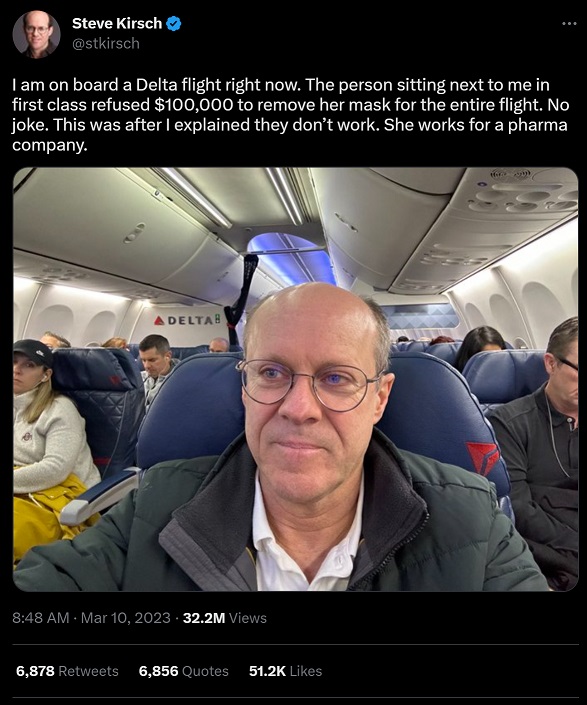 Who is Steve Kirsch?
Steve Kirsch is a 67-year-old entrepreneur and philanthropist who has founded several successful tech companies over the years. He is best known for developing one of the first optical mice in 1980, which used light and sensors instead of mechanical balls to detect movement.
He also founded Infoseek, an early internet search engine that was acquired by Disney in 1999; Propel Software Corporation, which created software for accelerating web browsing; Abaca Technology Corporation, which developed anti-spam technology; M10 Networks Inc., which markets blockchains for banks.
However, Kirsch has also been involved in controversy for his views on Covid-19 vaccines and masks. In 2021, he was asked to step down from the board of M10 after he claimed that Covid vaccines were "toxic" and alleged that one in 1,000 people who had taken them had died from them. He also claimed that vaccines "kill more people than they save" and got banned permanently from publishing platform Medium for spreading misinformation.
Among the alternative treatments that he advocated for over vaccines was ivermectin, an anti-parasitic drug that has been widely used by some people as a Covid-19 remedy despite allegedly lacking sufficient evidence of its efficacy or safety. He also donated $1 million to CETF in 2020 to fund research on various drugs such as hydroxychloroquine, fluvoxamine, famotidine, bromhexine hydrochloride (Bromhexin), niclosamide (Niclocide), proxalutamide (GT0918), etc.
While it does seem foolish to turn down $100K just to take off a mask, it could also make someone a bit weary as to why someone would be willing to pay that much for them to do something so simple. For some people it would make them wonder if the person was trying to infect them with something much more deadly than COVID. The woman was flying in first class, so maybe she was so wealthy that $100K didn't even mean much.
What would you do in that situation?