Nick Cannon may have finally met his match. Jay Fizzle, the rapper and cousin of the late Young Dolph, is making headlines for his large and growing family. According to reports, Jay Fizzle has 14 children by 14 different women, and he is not planning to stop having kids anytime soon.
The Memphis native, who is signed to Young Dolph's label Paper Route Empire, has been open about his love for women and his desire to have more offspring. In a recent interview, he allegedly said that he wants to have at least 20 kids.
Jay Fizzle's unconventional lifestyle has raised many questions and concerns among fans and critics alike. How does he manage to spend time with 14 different women and 14 different kids? How does he afford the child support payments for all his children? Does he even pay child support at all?
According to some sources, Jay Fizzle has a good relationship with all his baby mamas, which could mean that they do not demand any money from him. Based on social media evidence he adequately provides for all his kids.
However, some experts argue that Jay Fizzle's approach to fatherhood is irresponsible and harmful to his children. They point out that having so many kids by so many women can create emotional and psychological issues for the kids, who may feel neglected, abandoned, or confused about their identity.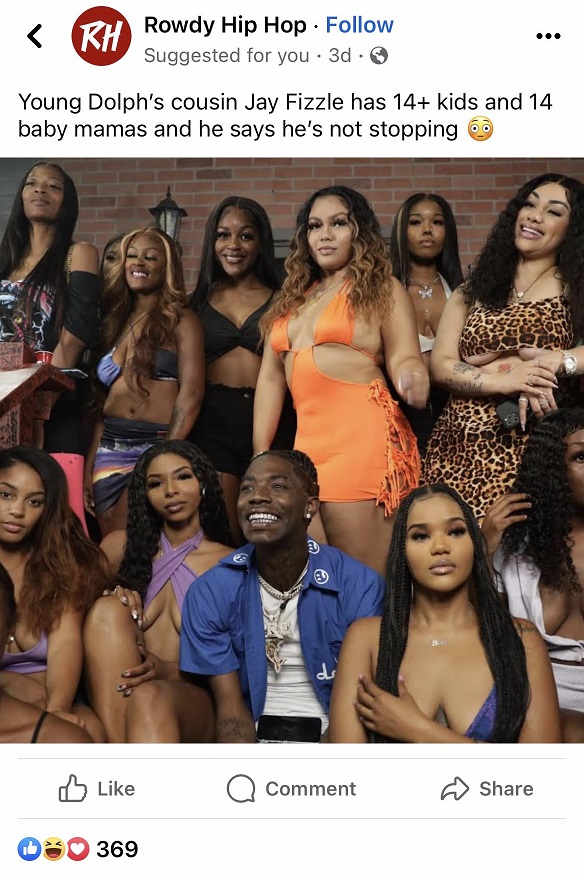 Jay Fizzle, has not responded to the criticism or the advice, so it seems he's unfazed by those who don't understand his lifestyle. He seems to be focused on his music career and his personal life, which he often shares on social media. He has also expressed his grief over the death of his cousin Young Dolph, who was shot and killed in Memphis in November. He appears to be very open person in terms of revealing his thoughts to the world.
Jay Fizzle is not the only rapper who has a large number of children by different women. Other examples include Future, who has eight children by eight women; Chief Keef, who has nine children by nine women; and DMX, who had 17 children by eleven women before he passed away.