When Bobby Shmurda was released from jail most people noticed he was a bit more stocky. That wasn't from eating good, it was from his intense workout regimen behind bars. Now he's trying to get his friends in shape to by challenging them to do it too.
In a viral video Bobby Shmurda bet a GS9 shooter $30K to do his jail workout routine, and if he failed he would have to buy him new shoes. Seems like a fair deal right?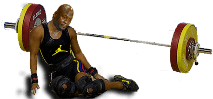 Bobby Shmurda was sounding like a whole drill sergeant in the video. It seems the core move of his workout was body raise pushups, which can be quite challenging if you are doing a lot. His GS9 friend definitely wasn't doing those pushups with proper form though, and he got tired real quick.
Perhaps Bobby Shmurda should look into making workout videos, they would be sure to do numbers.
Author: JordanThrilla