A black man named Robert Fuller was found dead hanging from a tree in Palmdale California. The media is calling Robert's death a suicide, but his family believe he was murdered. After media outlets started reporting the black man hanging from a tree near Palmdale City Hall committed suicide, his family left a heartbreaking message on social media urging people to come forward with more information.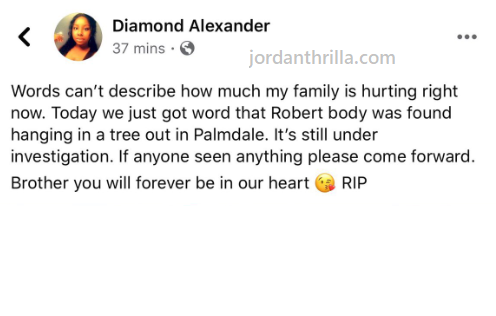 The black man's body was found hanging from tree around 4 am in Poncitlan Square in Palmdale, CA according to Lt. Brandon Dead of LAPD. The case is still under investigation, but most stories you read will say that it was most likely suicide.
On the surface it seems hard for a lot of people to believe that the person in the photo would commit suicide by hanging himself from a tree near Palmdale City Hall.
RIP Robert Fuller, he was only in his early 20's.
Author: JordanThrilla