Depressed Russell Westbrook became the first player ever to sing during a post game interview after Rockets Game 4 loss to Lakers. Since the WCSF began Russell Westbrook's demeanor in post game interviews has changed drastically. That continued when Russell Westbrook began singing during his post game interview when asked questions about why Lakers were exposing the Rockets' gimmick ball system.
Russell starts singing around the 2:30 mark, and at the very end of the video.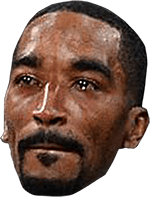 It's been a tough season for Russell Westbrook. He got traded into purgatory by having be a sidekick to an impostor like James Harden who was 2-11 from the field in Game 4. Rockets were never a contender, and no chance of making the finals this season without Chris Paul's leadership. In a sense Russell Westbrook got caught in the line of fire by being sent to the Rockets.
We wrote an article after Game 3 about the possibility Russell Westbrook is battling depression. Now that we see Russell Westbrook singing calming tunes to himself during post game interviews, it seems clear he is going through something mentally. Playing with an impostor like James Harden can do that to a player. Think about how Chris Paul wanted Harden benched last season.
While it was a historical moment, Russell Westbrook singing during his post game interview was sad to watch.
Author: JordanThrilla